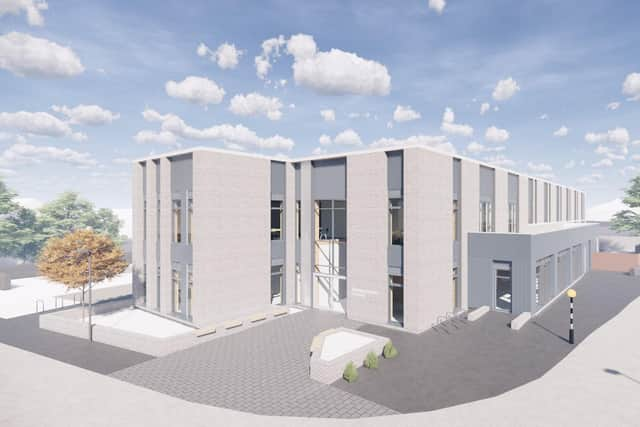 GROUND has been broken to mark the start of construction of a multi-purpose community facility in Ellon.
The two-storey, £11.4 million development is being built by Morrison Construction North East on part of the former Ellon Academy site at Bridge Street and will act as a civic hub for the town.
Comprising a new family resource centre, library, and council office, the facility's main public entrance will lead onto a customer service point and the library, whilst the family resource centre will have its own separate entrance and enclosed outdoor play area.
The office section of the building will feature a ceremony room, registrar's office, a flexible meeting room to accommodate Formartine area committee meetings, and an open plan collaborative office space to accommodate around 80 members of staff.
The internal layout of the building has been designed to be fully accessible and will feature a changing places toilet facility that can be accessed from Bridge Street. A car park to be accessed from Union Street will feature electric vehicle charging points, along with cycle lockers and stands.
Furthermore, a landscaping scheme will include planting to support pollinating insects, with the construction of the building to include 'swift bricks' and 'bat bricks' to allow for roosting. A 'key' area of focus has been the protection of a walnut tree thought to be around 130 years old, which sits on the eastern edge of the site and will act as a link between the site's former and future uses.
Aberdeenshire Council said that the building aims to achieve net zero operational standards and will feature a number of renewable energy systems like photovoltaic panels, heat pumps and heat recovery ventilation, while having a highly insulated and airtight envelope construction to minimise energy use.
The local authority added that the project will be due to be completed by February 2025.
Mike Bruce, MD of Morrison Construction North East, said, "We are delighted to be working once again with our partners at Aberdeenshire Council to provide these much-needed facilities for the local community in Ellon. We look forward to collaborating with all the stakeholders involved to create a sustainable new building, helping the council achieve their net zero targets and providing an exemplar project for this kind of public facility going forward."
Councillor Iain Taylor, chair of Aberdeenshire Council's Formartine area committee, added, "It's very pleasing to see work starting on what is a very well-known town centre site and that represents a substantial investment in our town. As well as creating a civic hub, the new building will bring a number of council teams together on one site, freeing up other sites in the town for other uses, including retail."