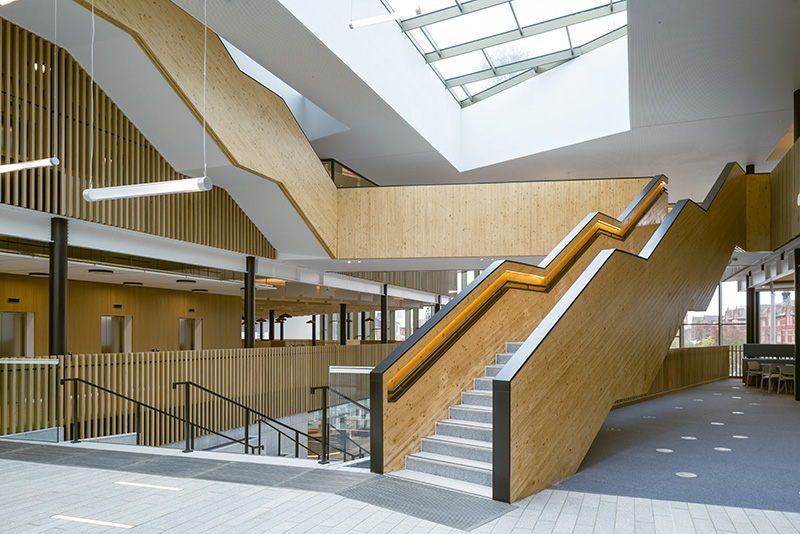 By Dr Mila Duncheva, business development manager of UK & Ireland, Stora Enso
METROPOLITAN hubs are rife with corporate spaces which try to integrate the green into the grey and bring the outside in. Studies show that offices with biophilic designs can reduce stress, improve concentration and increase productivity. Even a small shift, like adding plants to the office environment, can increase productivity by 15%.
But companies can think bigger than plants and terrariums and think of biophilic design in the architectural sense to maximise on this causation. One way of doing this is by building with wood. But what exactly is the pay-off for companies to doing so?
Wood's role in workplace wellbeing
In a post-Covid world, employers are increasingly attuned to the wellbeing needs of their workforce. Flexible or remote working conditions and flexible working hours characterise much of what companies are proud of – and advertise as having – in hiring processes.
Whereas workforce wellbeing has always mattered, even before the pandemic, it might seem to matter even more now. But this isn't quite the case. Really, it's the perception of its importance that has changed, and employers are shouting loud and proud about initiatives which sets them above the rest. But if employees plus wellbeing equals workplace success, where does wood come into the equation?
There are numerous health and wellbeing benefits to biophilic buildings, and if employees are happier and healthier they are, on average, less likely to take sick days and more likely to stay at their company due to a higher level of job-satisfaction. Businesses should therefore view reimagining office spaces to mimic the natural world as a strategic investment geared toward talent retention and commercial triumph.
So, surely it is in employers' best interests to ensure that their workplaces are enjoyable and productive – even creative – environments for employees. This is particularly important when considering that more and more companies are keen for their employees to return to the office, and continue to build upon existing company culture – even more so in the age of remote working and sporadic office attendance.
Timber takes offices to new heights
With cities becoming ever-denser urban jungles, the need for more concrete buildings is simply not there. What is available, however, is utilising air rights and building up. Building with timber means that office buildings can reach new heights. Whilst a timber Shard isn't in this equation, we can multiply existing buildings' heights with modular, timber bolt-ons. This provides constructors and companies alike with the means to subtract from overall costs and time taken to build, providing a speedier solution to workplace placement.
With companies less keen to wait for long periods of time, adding to existing structures might take some of the pressure off. Modular bolt-ons divide the years taken to build a traditional office block and result in a fraction of the time, rather than companies waiting for years for planning, construction and lettings to be completed.
From the construction side, this means that structures can be up and ready, and sales are made quicker than traditional construction.
And with prefabricated elements, this is truer than ever before.
Easy-to-build prefabricated timber buildings with materials like Sylva by Stora Enso can provide a low-carbon and speedy alternative to lengthy construction projects, right in the middle of busy cities. With modern methods of construction (MMC) now in play in the industry, companies and leaseholders can be assured that workplace demands won't have dwindled by the time their buildings are up and running.
Timber's suitability to prefabrication and MMC mean that workforces can return to suitable offices quicker – and ones that are better for workforce wellbeing.
Flexibility and Modern Methods of Construction
MMC brings with it the opportunity to be flexible from the outside (the constructor's perspective) – but what about the inside? What makes timber the perfect material to be thinking about both speed and ease – as well as workplace trends?
Flexibility has become a key feature of the modern workplace which are now also competing with the comfort of people's own homes. Making the workplace somewhere which supports wellbeing is now fundamental and could have lasting impacts on a company's longevity and growth.
This might spur companies to build new and better, accommodating for their employees' needs, but companies need to be thinking longer term. Wood is a material with a strong history of being a long-term solution for what needs to be achieved in a flexible workplace, through its ability to adapt to existing structures and innovate spatial design.
While flexibility might be a core component of the modern workplace (in the sense of work perks for employees), the pandemic has shown us that the purpose and use of buildings might change – and quickly. There has already been a shift towards workspaces designed solely for working independently to workplaces which make the most of space by adding areas designed specifically for socialising and collaborative working between colleagues.
The structural makeup of engineered timber such as the Sylva cross-laminated timber (CLT) and Sylva laminated-veneer lumber (LVL) elements allow for more open plan buildings– meaning that spaces can be adapted to suit future organisation's needs. For the short term, building with wood provides substantial wellbeing benefits to employees – but that aside, there are notable sustainability advantages to using wood in construction.
When thinking about the complex sum that is building an office space fit for the workforces of today, tomorrow and beyond, prefabricated, modular, timber construction solutions need to be part of the formula that equals commercial success.