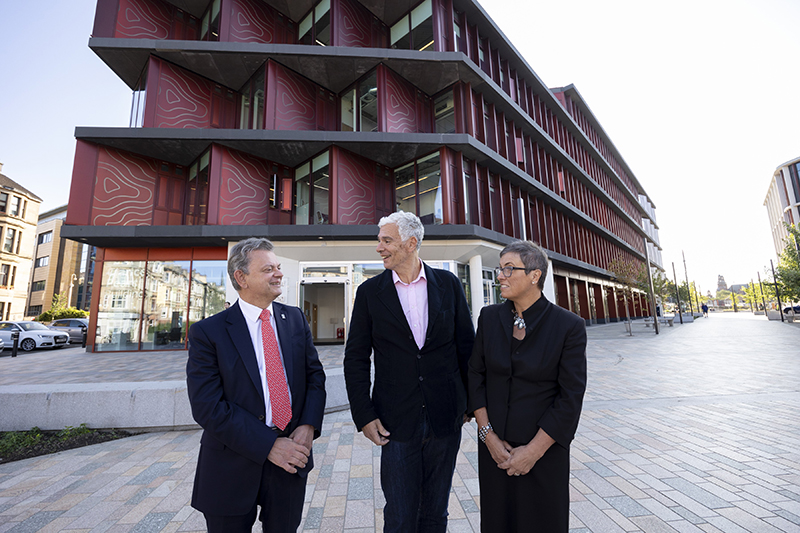 THE University of Glasgow has officially opened the Clarice Pears Building at its Gilmorehill campus in the city's west end.
The £50 million facility, which was built by Multiplex, brings together academics who previously worked across ten locations to create a single centre for 'world-leading' research focussed on improving health and reducing health inequalities.
Experts working in public health, primary care, health economics, mental health, social sciences, clinical trials, and health data science will operate in the facility. Collaborations between researchers, local and national public sector bodies, the NHS, and the private sector will also be facilitated.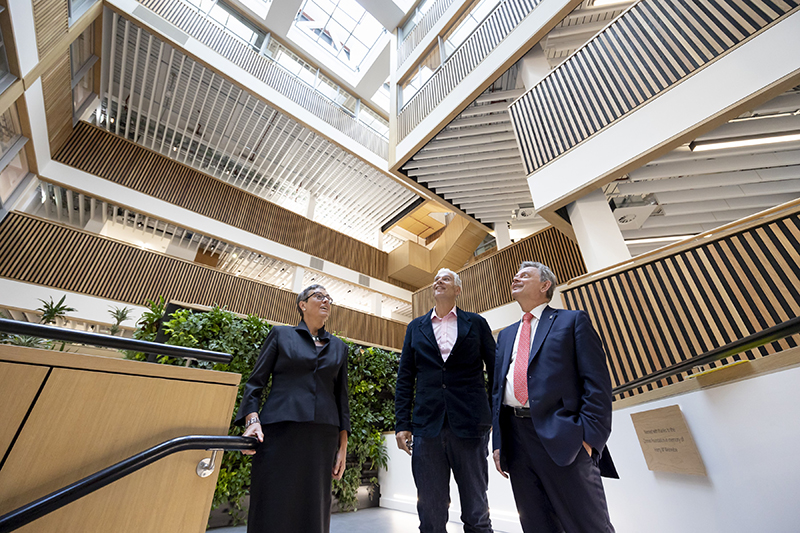 Adjacent to Byres Road, the ground floor of the building is publicly accessible with spaces for the hosting of community meetings as well as public engagement and exhibition facilities.
The building is named after Clarice Pears, mother of the three founders and trustees of the Pears Foundation, which donated £5 million towards its construction.
Professor Jill Pell, head of the school of health and wellbeing at the University of Glasgow, said, "We are delighted to officially open the Clarice Pears building, the home of the University of Glasgow's school of health and wellbeing.
"The school of health and wellbeing at the University of Glasgow has always sought to address the greatest challenges facing society in the UK and around the world, and this building will help us tackle disease, improve health and wellbeing and reduce inequalities globally.
"I'd like to sincerely thank our donors, especially the Pears Foundation and Medical Research Council, whose generous support has been invaluable in realising this world-leading new facility that will help change lives."
Mark Pears, trustee of the Pears Foundation, added, "I am tremendously proud to officially open this new building, which bears the name of my mother, Clarice Pears.
"The mission of the University of Glasgow's School of Health & Wellbeing closely mirrors that of the Pears Foundation, to tackle key issues relating to the wellbeing of people and communities around the world. On behalf of the Pears Foundation, I look forward to working closely together with the University of Glasgow to meet those challenges in coming years."
The Medical Research Council's director of capital and estates, Susan Simon, commented, "This building will be the home for different groups of researchers applying their skills and knowledge to tackle a common goal – the improvement of human health but addressed through different lenses than in our other Institutes and Units. It is designed to encourage interaction and collaboration between scientists, and its position adjacent to other important research facilities of the University of Glasgow is promising exciting new research.
"The MRC is very proud to have been allowed to play a part in the making of this facility and I am certain that the MRC/CSO Social and Public Health Sciences Unit will thrive in this environment."