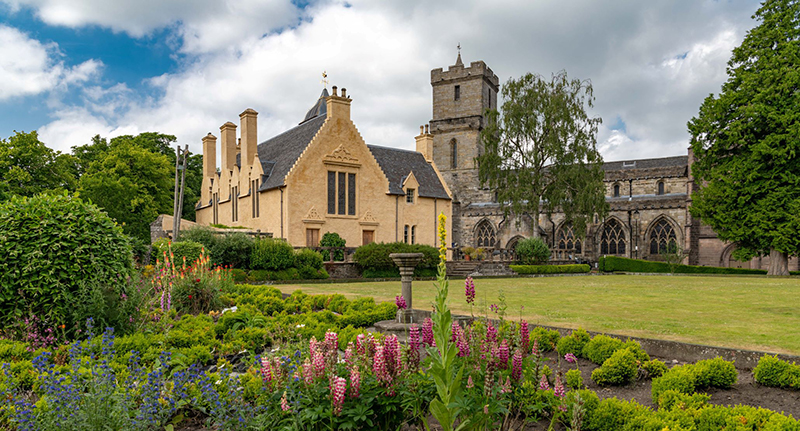 A 'unique' office over two levels in the east wing of Stirling's Cowane's Hospital is being marketed for let by DM Hall.
Situated just below Stirling Castle and opposite the Church of the Holy Rude where King James VI was crowned, and known also as the Guild Hall, Cowane's Hospital was established in 1637 with a bequest of 40,000 merks from the estate of merchant John Cowane, also referred to as Auld Staney Breeks.
It is considered by Historic Scotland to be 'a rare survival of 17th century burgh architecture and one of the finest buildings of its kind in Scotland'. The gardens are also seen as a 'rare survival' of an institutional garden of the 17th century and were included in the national inventory of gardens and designed landscapes in 2012.
Following a major refurbishment and conservation project which began in 2019 by Cowane's Hospital Trust, the main event space is also available to hire for boutique weddings, meetings, musical gatherings, ceilidhs, and private functions.
Jennifer Campbell, head of rural agency at DM Hall, who is overseeing the marketing of the east wing office of Cowane's Hospital, said, "This is a fantastic, creative space in the centre of Stirling. The views are incredible and the office spaces are finished to a very high standard.
"The offices, which includes a kitchen and lavatory, is over 400 sq ft and parking (subject to availability) are available. We are marketing it at an annual rent of £5,000+ VAT and anyone interested in taking up this unique opportunity should contact me directly,  Jennifer.Campbell@dmhall.co.uk or on 07909 917540.
"We at DM Hall are delighted to have a long-standing relationship with the Cowane's Trust, in relation to property management, agricultural tenancies and surveying services. It is a great pleasure to market for let such a unique office in a truly inspirational location."