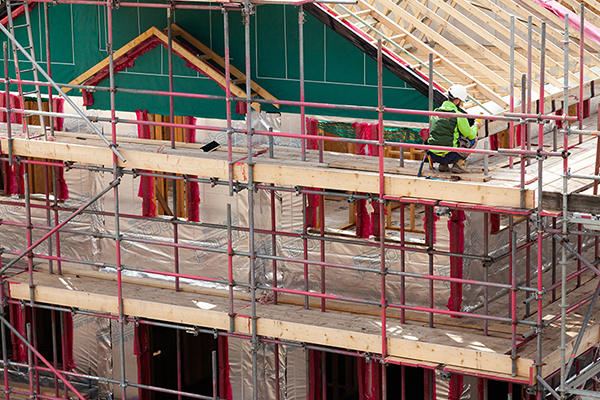 John Mellor, senior product manager with Glidevale Protect, a producer of external wall breather membranes, explains what structural timber manufacturers need to know following updates to the Structural Timber Association's STA Advice Note 18
First launched in 2019, STA Advice Note 18 – 'Breather membranes to structural walls' is a valuable resource for housebuilders, contractors and specifiers involved in structural timber construction projects and the wider offsite construction market. The guide provides detailed information on the use of breather membranes in terms of watertightness, exposure, thermal performance, and fixing requirements.
As one of the collaborating contributors to both the original and revised STA Advice Note 18, Glidevale Protect is well placed to assist specifiers and designers in choosing the most appropriate external wall breather membrane product for their project.
What's new?
As outlined in the original version of the STA Advice Note 18, the new guidance looks at the specification and installation of external breather membranes for cavity facing structural wall panels. The revised STA Advice Note 18 provides enhanced guidance on watertightness and specifically the use of W1 and W2 rated external breather membranes. A new section on 'site-specific exposure to wind-driven rain' aims to clarify how to assess if a site is in a very severe area and if it would require a W1 rated breather membrane to provide the necessary resistance against water penetration.
Guidance maps from BRE and NHBC are also included to highlight very severe areas of the UK where a W1 membrane is recommended or where W2 watertightness (no leak) is suitable for the majority areas of the country.
One interesting aspect of the updated guidance is the emphasis placed on the importance of product manufacturers being able to verify all breather membrane product claims. So, what should housebuilders, specifiers and structural timber manufacturers look for to ensure compliance at every stage of the breather membrane selection process?
Testing times
Although the onus is on the manufacturers to be fully transparent, those specifying need to be informed so that they can challenge their suppliers to provide reliable technical information. We believe that full technical transparency should be standard practice and we're pleased this has been highlighted in STA Advice Note 18.
It's important to dig that little deeper so before specifying a reflective external wall membrane, firstly check that it has been tested to meet BS EN 15976. This is the benchmark and approved methodology to determine the emissivity of an external wall breather membrane. All test results should be certified by a UKAS accredited, independent third party.
Real value
It's understandable that specifiers will look at a membrane's R-value in terms of thermal resistance and how this impacts the overall U-value as part of the design process but it's important to remember that this is much more than just a numbers game with no reference to aged or unaged results. That's why we are keen to support the STA's renewed focus on pushing product manufacturers to improve the way they communicate the technical performance of a product and specifically on external wall breather membranes, clarify if the quoted thermal resistance figures are based on worst case scenarios and whether the results claimed refer to aged or unaged values.
Again, it's important to look beyond the top-line product information so that specifiers can be sure that they have access to reliable technical information for external membranes which accurately reflect real life performance figures.
As well as providing full transparency on the testing of its products, Glidevale Protect's best practice ensures all its thermal resistance results on reflective external wall membranes are based on aged values, also taking any brand printing on the low emissivity surface into account. Additionally, it's vital that the claimed thermal resistance values are based on the membrane being installed with the appropriate maximum horizontal fixing centres of 600mm, as detailed in STA Advice Note 18.
Compliance through collaboration
With specifiers facing even stricter rules on the performance of building products, from the uplifted Building Regulations to the new Building Safety Act, manufacturers have a critical role to play in ensuring a safe and sustainable specification process. Achieving compliance is only one element, albeit an important one. Providing substantiated technical information is also vital to bridging the 'performance gap' so that buildings are as energy efficient in operation as they are designed to be.