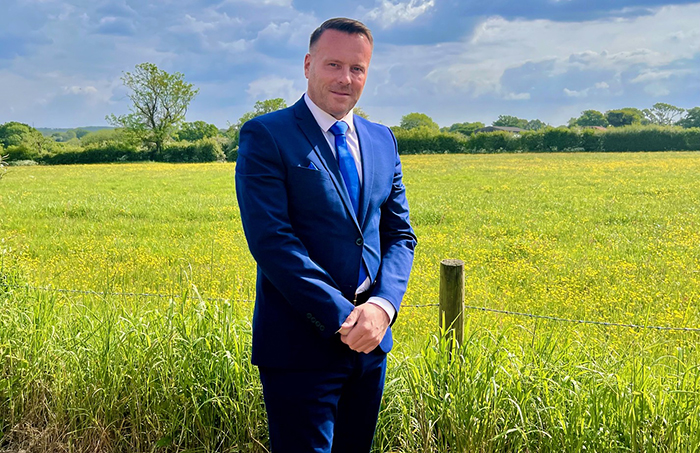 Christian Warden, engagement director at Construction Talent Retention Scheme and Talentview Construction, a government-backed platform that allows those with construction experience to showcase their abilities, discusses the challenges and opportunities of re-skilling workers who are leaving fossil fuel environments for jobs in the renewables sector
LAUNCHING his party's new energy and climate policy in June in Edinburgh, Labour leader Keir Starmer made his point forcefully. With turbines lining its shores and vast new floating wind farms sitting 15km out to sea in deeper waters, 'the moment for decisive action' was now, he said. 'If we wait until North Sea oil and gas runs out, the opportunities for Scotland and your community will pass us by, and that would be an historic mistake.'
And that is Scotland's dilemma: With a 200,000-strong North Sea oil workforce and most of the UK's installed base of windfarms, the Scottish economy and its workers are caught between its fossil fuel past and renewable future.
Green energy's huge upside
For 15 years, the oil and gas industry boom has brought money and jobs, particularly in cities such as Aberdeen. Now the Granite City is turning towards renewable energy; powering more than 50,000 households, the Kincardine wind farm is one of the world's largest and will be serviced by a vast new harbour being built just south of the city.
So green energy has its huge upside but the migration of workers between the two worlds is not without its trials. Construction opportunities there are aplenty but working out which roles best suit whom and how to go about re-training skilled staff is the key to making this stage in Scotland's history as smooth a transition as possible.
The lesson learned after the long, slow demise of Britain's coal industry in the 70s and 80s should not be lost on anyone. Workers will need to reskill and that is the challenge for us all.
Harness all the skills
Sandi Rhys Jones OBE, president of the Chartered Institute of Building (CIOB), picked collaboration as the theme for her presidential year and wants to help improve joined-up thinking in a sector she says is famously combative, adversarial and prone to working in silos.
'We need to accept the fact that the world can't achieve net zero without us in the built environment sector,' she said. 'So we've got to harness all the skill and ingenuity our sector possesses – plus that which we can learn from other sectors – to change the way we work.'
So how to go about that in places such as Aberdeen?
There doesn't need to be an either/or situation when it comes to skills. As innovation continues to grow, so shared skills and the way we deliver those skills continues to develop.
We need to make the current workforce future-proof. That means looking at existing abilities and then enhancing them with skills and qualifications that will meet the current and future needs of both the sector and Scotland. Embracing change in Scotland will give it every advantage possible in leading the way in the sector.
Huge depth of experience
Let's examine one group of workers: those who operate heavy machinery on the oil rigs. These professionals rely on lots of equipment to extract, store and process oil. They may operate drills, cranes, forklifts and turntables, using their training to work efficiently and safely. As they use this equipment, they communicate with other team members to effectively complete tasks, like guiding pipes into the drilling well.
Other responsibilities while operating heavy machinery may include monitoring chemical levels to prevent pipes from corroding, analysing gas and pressure levels and tracking environmental conditions that could affect productivity.
That is a huge depth of experience which can be so useful in other areas of construction. Speaking to someone from CTRS or TVC will help identify new opportunities and recognise your skillset is crucial.
Take the skills needed to be able to track environmental conditions that could affect productivity. Given the journey towards net zero and the emphasis on sustainability, there is an obvious demand for workers with experience in this area. It is converting the skills required for an oil rig into those for a construction site onshore, or indeed the wind turbine sector both offshore and on.
We can learn from other sectors, such as the automotive sector or the aviation sector, and see how they became globally competitive and more productive through a highly-skilled workforce that operates differently to the way they had previously.
Increasingly productive country
Talentview Construction – which is aimed at bringing in new talent – and the CTRS can support this transition and enable growth in the construction and built environment sector, and help Scotland become an increasingly productive country through its people.
A major survey of offshore oil and gas workers run by Greenpeace, Friends of the Earth Scotland and Platform a couple of years ago found that with pay and training, job security and health and safety all diminishing, four-fifths of workers who responded were considering leaving the oil and gas business.
Jobs on a typical oil rig can include: pump technician, oil rig mechanic, offshore rig electricians, crew chief, drill operator, driller, rig manager, drilling engineer, tooling engineer and safety engineers. In renewables you have wind turbine engineers, business development managers, industrial electricians and senior engineers in the wind turbine industry.
That leaves renewables businesses with rich pickings: combining the enthusiasm of a generation of engineering graduates with the experience of existing workforces from other sectors – engineers who have proven themselves to solve problems, lead teams, manage safety protocols. Whether you've come from an oil platform or a wind turbine, your skills will be an asset.
There is crossover. For a start, engineering skills are universally sought by employers. Adapting one professional discipline for another most likely would involve retraining but the benefits for both the employer and employee are huge.
Take rig manager or crew chief – management skills are sought after in all construction arenas. Oil rig mechanic – again, a technical skill that would appeal as would the huge array of maintenance roles. It is all about pointing out what opportunities are available. The first step would probably be to create a profile and upload your CV to platforms such as CTRS.
Workers leaving fossil fuel environments for jobs surrounding Scotland's sustainable future should never despair. The industry is constantly evolving and there will be new roles for them to move into that don't even yet exist. The world is their oyster.