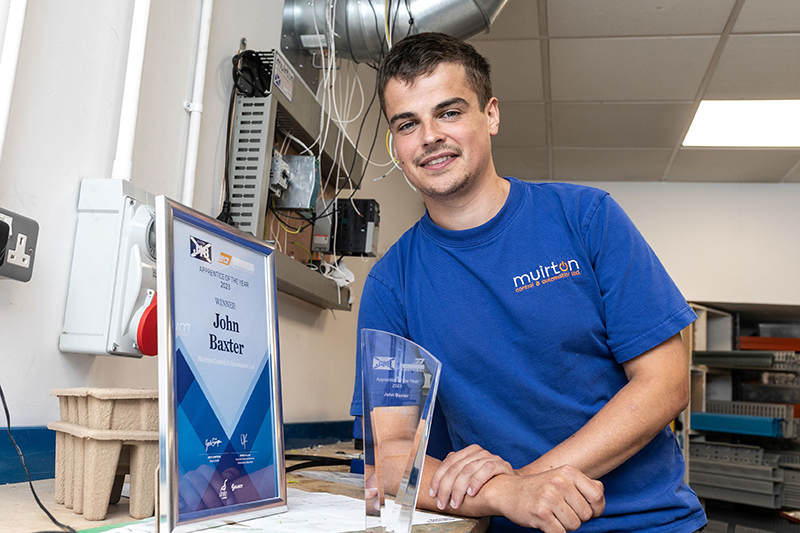 TWO young electricians have been recognised for their talent at the Scottish Joint Industry Board (SJIB) Apprentice of the Year Awards.
John Baxter lifted the 2023 trophy after impressing judges, while Ben Wardrop received the 2022 award in recognition of his achievements, with both also being presented with a cheque for £1,000.
Fiona Harper, secretary of the SJIB, said, "The SJIB Apprentice of the Year Awards celebrate the best new talent in our industry and reinforce the fact that apprentices are the sector's great hope for the future.
"John and Ben are both remarkable young electrical professionals who have demonstrated tenacity and determination to succeed in their chosen careers and have now acquired skills which are not only future-proofed but internationally transferrable.
"They have both shown both ability and dedication throughout their training and we are delighted that they have now been recognised for their exceptional talent."
Derek Allen, Scottish regional director of Edmundson Electrical, added, "Both winners should be rightfully proud of their achievements and their employers, college lecturers and training officers from the Scottish Electrical Charitable Training Trust (SECTT)should also be praised for continuing to help develop the talent of tomorrow."
John, from Macduff, works for Muirton Control and Automation in Fochabers, Morayshire, after completing his studies at North East Scotland College's Fraserburgh Campus. He was presented with his award by Alick Smith, Leader of the Employers' side of the SJIB National Board and Convenor of the SELECT Employment Affairs Committee.
The 25-year-old said, "Undertaking my apprenticeship has been a great challenge, but also a terrific opportunity and to have my hard work recognised in this way is more than I could ever have hoped for. I would like to thank not only my lecturers, whose patience and understanding was very reassuring, and my employers, who have been unfailingly supportive, but also all the time-served tradesmen I have worked with. Their good-humoured support has been crucial."
Ewen McDonald, director of Muirton Control, said, "John has shown from day one that he has what it takes to be an excellent electrician. He has been a fast, effective worker and this award is no more than he deserves."
Fellow winner Ben, from Stirling, works for Ross-shire Engineering in Muir of Ord, after studying at Forth Valley College in Falkirk. He was presented with his award by Scott Foley, leader of the Trade Union side of the SJIB National Board, chair of the SECTT board of trustees and regional officer at Unite the Union.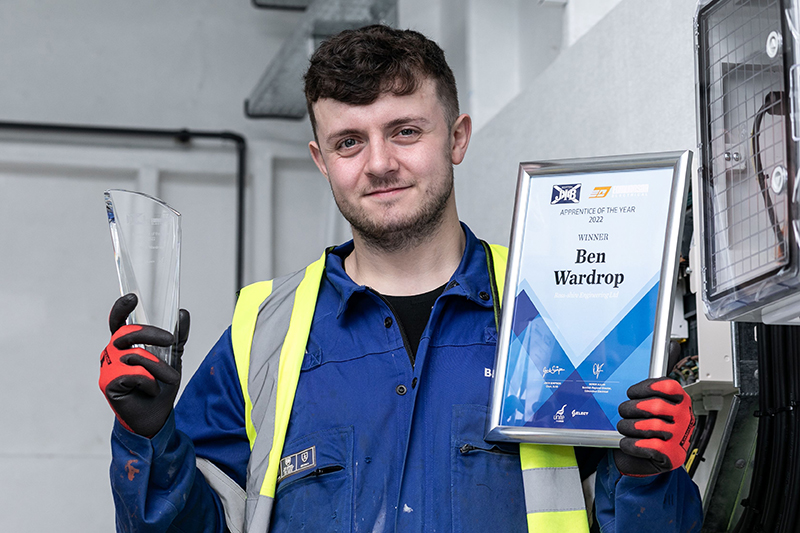 The 23-year-old said, "Electrical apprenticeships are more vital than ever and I'm very pleased not only to have completed my learning but to also have been awarded this tremendous accolade. With this award, I really feel that I'm on the start of a career path which could take me anywhere. I feel a debt of gratitude to everyone who backed me and showed faith in me."
Lloyd Scott, electrical operations manager at Ross-shire Engineering, added, "Ben deserves this award for the dedication, discipline and enthusiasm he has displayed throughout his training. He has a stellar career ahead of him and we are proud to have played our part in his development."