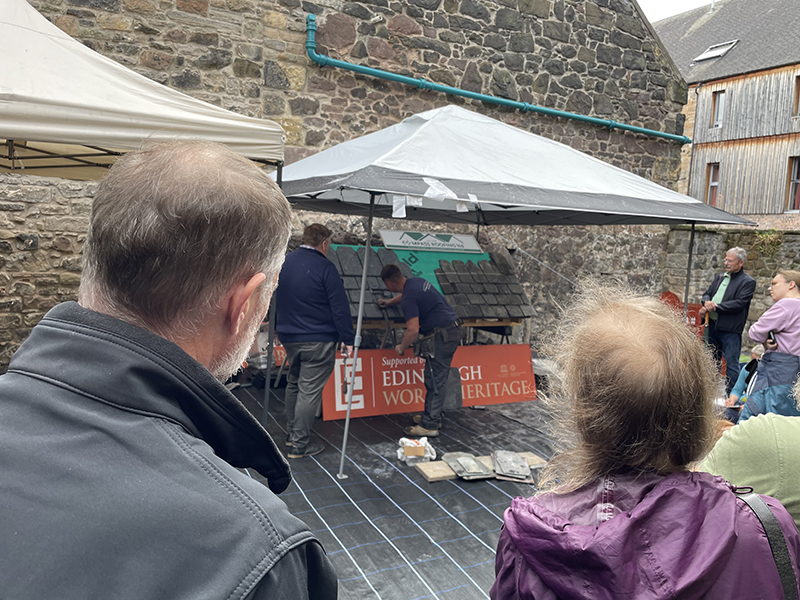 MAINTAINING traditional skills in the Scottish construction industry has been described as an 'absolute must' if we are to prevent older buildings from falling into disrepair.
That's the view of Scott Miller, chair of NFRC Scotland and MD of Compass Roofing, who recently spoke to Project Scotland following another successful Edinburgh Traditional Building Festival.
Scott hosted demonstrations on slate roofing to a packed audience at the offices of the Edinburgh World Heritage Trust. Other events during the week included demonstrations on roof leadwork, sash and case windows, and lime rendering.
The aim of the annual festival, organised by the Scottish Traditional Building Forum, is to educate homeowners to help them make informed decisions around repair and maintenance of their properties.
Scott explained, "It went really well; the event is always well received. We had seven or eight different types of slate and explained what the different types were, where they come from, what's used now and what's not used, and what's quarried now and what isn't.
"We had a Spanish slate on a rig and a Scottish slate. We defined how a double nailed roof and a single nailed roof are very different and how you would repair both of them. We then gave a demonstration and spoke about things like underlay felts and boarding."
A mixed crowd of attendees included suppliers, members of the public, architects, and surveyors.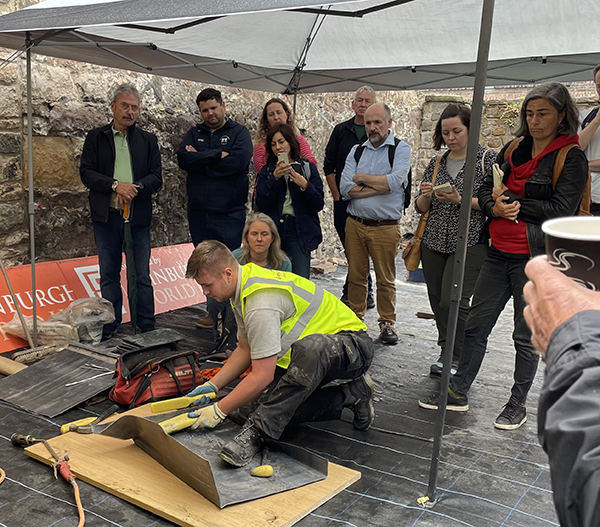 Scott described the feedback as being 'really, really good', with several people approaching him at the end to comment on much they'd enjoyed the demonstrations.
"Some had been before, some hadn't," Scott added. "We try to make it a wee bit different every year. We had different rigs this year because NFRC have bought their own rigs."
When it comes to roof slating, Scott is adamant that despite a shortage of skilled workers, the trade will never be lost. "You will always need roof slaters and tilers," he said. "Doing it properly is the biggest thing. You can use the same materials and do it badly or use the same materials and do it well – and it will last for a long time.
"You've got to take into consideration these days that the weather is very different. We're getting heavier rainfall and wind-driven rain, so the detailing in some old roofs has got to be changed."
Scott was keen to emphasise the importance of maintaining a roof, comparing it to buying a new car, which requires petrol, oil, water, and regular checking of tyre pressure. Roofs, he said, require similar care and attention.
He also touched on the sustainability credentials of slating.
"For environmental reasons, a lot of people are going down the route at the moment of taking Scottish slates off a roof, selling them, and then putting imported slates on that have travelled probably thousands of miles to get here. Nine times out of ten, if you've got a Scottish roof, you've got 50% of the materials there already and if you can source the other 50% through the second-hand market, you are actually doing something for the environment because you're re-using materials.
"We also spoke about inverted membranes because houses are more insulated now. People are taking longer showers, there's more steam and moisture in the atmosphere. If you over-insulate, the roofs aren't really breathing so you've got to make sure you've got a proper breathable membrane which is vapour permeable."
Turning attention to skills shortages, Scott revealed he recently attended a roundtable event in Stirling with Historic Environment Scotland and CITB which shone a spotlight on just how prevalent the skills gap is across the whole of the construction industry.
"There is a massive skills shortage, but that's not just in roofing," Scott said. "That's electricians, plumbers, plasterers, groundworkers, absolutely everything.
"We're trying to address that at the moment. NFRC is going around schools doing roadshows, trying to get kids aged 14-15 to make informed choices that it's not just all about going to university. There are many trades within the construction industry from roofing and joinery to thermal imaging if they're into tech.
"Everybody used to think of building sites as somewhere where you were standing up to your knees in mud in the pouring rain. That's not the case now; you're well looked after. I'm sitting in a hotel just now looking out at a building site across the road and everyone's working away, wearing hi-vis jackets and warm clothing. They're well catered for within their welfare facilities. And they're earning good money."
When it comes to roofing careers, Scott said there is 'no limit' to what you can do, citing opportunities to move into site management, surveying, estimating, and even starting your own business.
He concluded by stating that you only have to go for a walk around Edinburgh and take a look at all the tenement buildings to realise how vital it is that traditional skills are maintained.
"If the envelope, the outer skin of these buildings, is not preserved and maintained, they're just going to fall into disrepair," he revealed. "You do need to maintain and look after things."