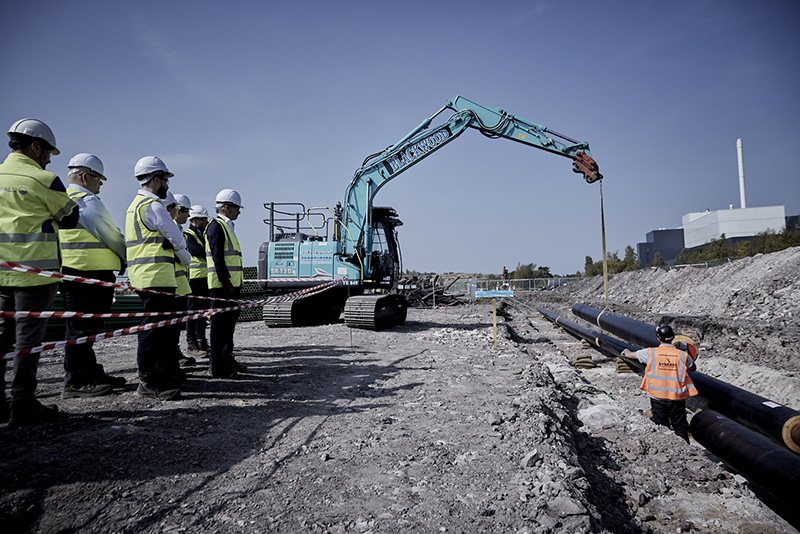 VATTENFALL Heat UK and Midlothian Council have celebrated their joint venture known as Midlothian Energy Limited (MEL) at an event at the National Mining Museum of Scotland in Newtongrange.
The joint venture aims to regenerate and decarbonise Midlothian by supplying low-carbon heat through a network of underground pipes to newly built homes in the former coal mining area.
Prior to the event, which was attended by key stakeholders, a section of the district heating pipe was signed by the organisations that have made this project happen.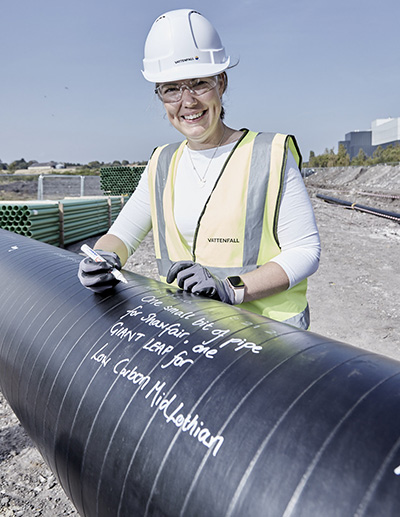 The initial phase of the network, which will supply around 3,000 homes, education and retail properties at Shawfair Town, will be powered by waste heat from the Millerhill Recycling and Energy Recovery Centre – an energy from waste plant operated by FCC Environment.
This will be the catalyst for a wider regional network stretching into south Edinburgh and East Lothian. The Shawfair development is a key feature of the Midlothian Energy Limited five-year business plan to supply low-carbon heat to over 30,000 households and progress a variety of other energy projects. During the expansion of the district heating network, heat will be taken from other waste heat sources, including heat from the local mine workings.
The coal mines once supplied the energy and raw materials that powered industry in the 19th and 20th centuries, and the fuel to heat domestic properties. Once coal mines have closed and the pumps are stopped, they fill with water which is heated through natural geothermal processes. Heat can be transferred from the mine water to clean water in a district heating network.
Midlothian Energy and Vattenfall Heat UK are working with the Coal Authority to explore using heat from a planned mine water treatment scheme at Dalkeith, one of several mine water heat projects under consideration in Scotland.
Construction of the district heating network started earlier this year.
Vattenfall Heat UK has employed FES Group to deliver the low-carbon heating at Shawfair Town, a development overseen by Shawfair LLP in the north of the Midlothian Council area. This will be Vattenfall's first heat project in Scotland. A large section of the 4km pipes have already been installed.
Heat is expected to be delivered to homes by June 2024.The initial phase of the network is expected to save over 2,500 tonnes of CO2 per year. The project will benefit from up to £7.3 million from the Scottish Government's Low Carbon Infrastructure Transformation Project (LCITP).
Jenny Curtis, MD at Vattenfall Heat UK, said, "Without the rapid deployment of heat networks at scale it is simply not possible for Scotland to reach its ambitious net zero by 2045 targets. Using waste heat from sources like energy from waste plants and mine workings is a no-brainer. The heat is already there, all we need is the urgent deployment of low-carbon heating infrastructure to capture it and supply it to local residents and businesses.
"We are so excited to build on Midlothian's proud heritage and make the shift to create a low-carbon, clean energy network for the local community, inspiring the next generation into low-carbon, local jobs."
Councillor Dianne Alexander, Midlothian Council's cabinet member for environment, added, "We are delighted to reach this key milestone in our joint venture to deliver low carbon heat projects across the Midlothian Council area. Our innovative approach to working with a highly experienced partner will help Midlothian deliver on our ambitious net zero plans and contribute to reducing fuel poverty."
Nick Waugh, director at Shawfair LLP, commented, "Shawfair LLP takes immense pride in the rich mining heritage of our local community and is equally delighted to help facilitate the transition to a low-carbon heat source working with Midlothian Council and Vattenfall, introducing district heating at scale to our new housing. Part of a package of initiatives delivering a sustainable low-carbon environment and future proofing our new vibrant modern town."
James Reid, FES energy operations director at FES Group, said, "The Shawfair development is the start of a new era for Midlothian. FES Group believes the use of waste heat from the Millerhill recycling and energy recovery centre (RERC) and low carbon technologies in the MEL Energy Centre, will provide the catalyst for future generations to meet the challenge of net zero for Midlothian and the surrounding areas.
"The project demonstrates that business models such as MEL can bring experienced private businesses and local authorities together, providing value to local communities and the inspiration for more low carbon infrastructure schemes throughout Scotland. We are delighted that MEL has chosen FES Group to be Principal Contractor for this regenerative journey of the area."