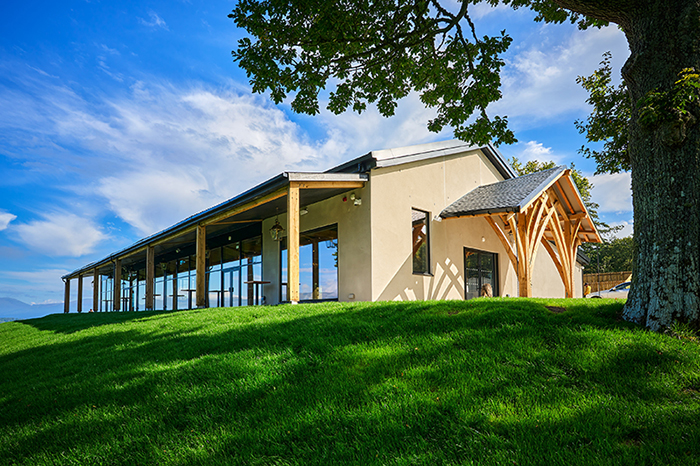 ADVERTORIAL
Bell Building Projects combines the strength of a national contractor with the stability, flexibility and trust of a family business. The company is now gearing up for further expansion thanks to a robust pipeline of opportunities.
For over 40 years, Bell Building Projects has been cultivating an impressive reputation as a contractor of choice for new build, extension, refurbishment, and façade projects across a range of sectors including commercial, industrial, and retail.
In recent years, the Glasgow-headquartered business has made significant strides south of the border, driven by its speciality in cladding remediation projects, which have taken on extra prominence in the wake of the Grenfell Tower tragedy.
Bell has already opened an office in Manchester and plans to open a further base in the south west later this year to service a number of projects in the Bristol area.
Despite the growth in England, the company remains as committed as ever to the Scottish market and prides itself on being a national contractor but with the flexibility and ethos of a family business, with clients having quick access to key decision makers.
The Bell story began in January 1982 when Neil Bell, who had worked for a design and build company, decided to branch out on his own. The firm established a strong reputation for quality in its early years, delivering numerous steelwork and cladding projects on buildings such as warehouses and small car showrooms. As the business developed, the projects became larger and more lucrative. Bell started to move into working on more lavish car showrooms and elaborate distribution warehousing as the company skillset improved.
Neil's son Martin joined the business in 1992 and the growth continued. Bell embarked on increasingly complex buildings and office fit-outs and when Neil retired in 2005, Martin bought the business.
Since then, the evolution has been dramatic. Bell has successfully executed many flagship projects including building the Jaguar showroom at Hillington, designing and constructing a new chill store facility for Stewart Brewing in Loanhead, and leading the creation of a number of Starbucks drive-thru sites across the country.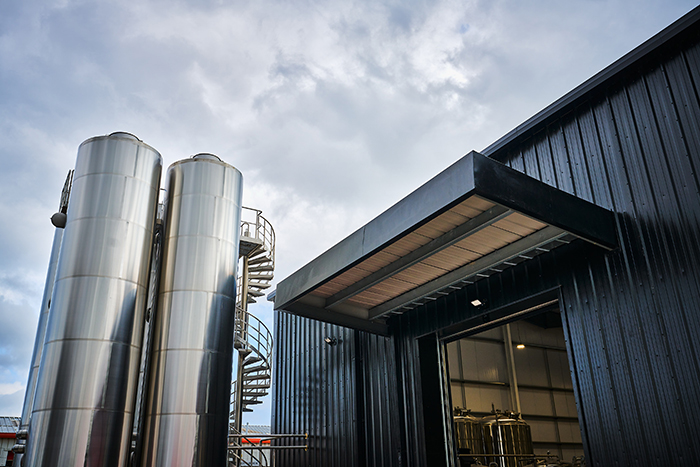 A key milestone was in 2014 when commercial director Stuart Moncrieff joined and helped Bell move into the insurance reinstatement market. If a factory or warehouse is damaged by fire or flood, Bell can replace the cladding, offices, or whatever area has been affected.
After the Grenfell fire in 2017, the company found itself in a strong place to get involved in cladding reinstatement programmes to make buildings safer, while continuing to carry out the more traditional construction projects the firm was renowned for.
Martin Bell explained, "We started picking up the cladding reinstatement works involved in removing dangerous flammable materials and we were awarded five projects in Manchester, which gave us an opportunity to open an office in the city and use that to develop other works.
"The office opened two years ago. We've used that as a base, brought in new members of staff local to the Manchester area, and we now have both traditional works and fire clad projects."
While an increasing percentage of Bell's turnover comes from projects in England, due in part to the high value cladding remediation tasks, the works in Scotland tend to be more resource-led, which means they require more staffing.
Current head count within the company is around 52.
Being a family business means that, even in periods of growth, clients still have easy access to the ultimate decision makers who can reach a resolution based on what feels right rather than what suits many shareholders.
The 'pretty flat' management structure allows Martin and Stuart to make quick decisions too when it comes to investments. The purchase of the Manchester office is one example of this, whereby a decision was made to buy rather than rent premises, not least because it gave staff confidence in Bell's commitment to the area long-term.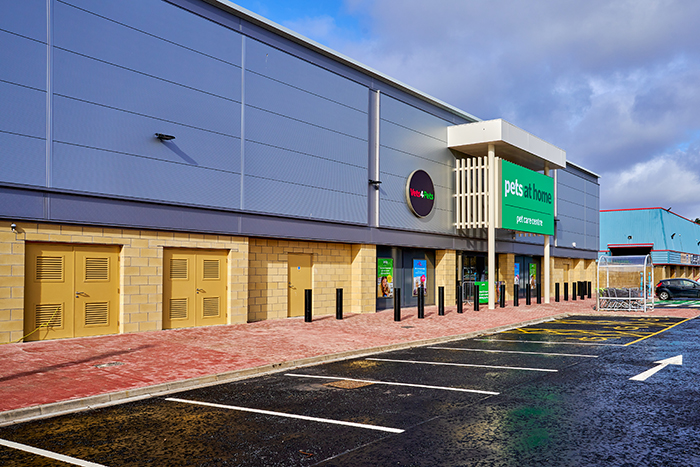 Stuart Moncrieff highlighted that one key aspect of being a family firm is it reinforces that the company matters to people.
"It's not just about the Bell family, but the employees in the business understand the origins and philosophy," he said. "The business has got substance to it. People care about it. The people within the business are accessible. Perhaps, in some of the larger organisations, things can get lost and it's a little bit faceless. We've got an identity stretching back to Martin's father. The employees are part of something, and they appreciate the significant contribution that they make to our overall success."
The Bell ethos includes being proactive and taking business seriously. Repeat business is a cornerstone of the success so providing a professional, yet personal service is key to client retention.
The company has the experience and expertise to offer turnkey solutions – from design and costing through to delivery and maintaining buildings. The firm is also flexible enough to adapt to different requirements and work with a client's own design team if that is the preferred method.
Stuart explained, "You have to listen, you have to be open minded, you have to be a versatile business. You need to be agile – and we are. And we've got a specialism, which is very much front and centre of the construction industry now, which is cladding remediation.
"People trust us; we have provided engagement and advice to the UK and Scottish Governments and their advisers, and I think that's a reputation that you work terribly hard to obtain. We protect that."
The projects Bell carries out range in value from £500,000 up to £20 million. Examples of the company's work can be found within the picturesque grounds of Boturich Castle in Loch Lomond. The company was tasked with constructing a new steel framed wedding venue featuring a full fit-out to an extremely high spec. The end result was a fabulous looking building, which has been very well received.
Bell was also principal contractor for fire-damage reinstatement works to two units at St Catherine's Retail Park in Perth. The work involved the construction of two single-storey units and associated car parking. One of the units involved a new inside/outside garden centre. The project was made more challenging as it occurred during the pandemic.
In terms of cladding remediation work, high-profile projects have included repair and re-cladding of 2 Express, a residential tower block in the centre of Manchester, and at E1 Waterside Street in London.
For the London project, ACM, Copper and Cedral cladding, as well as cavity barriers, flat roofing and sealed service penetrations had to be replaced with fire-retardant materials. The numerous façade finishes, building configuration and complex balcony arrangement made this a hugely challenging project in which Bell's expertise in this field proved crucial to the successful outcome.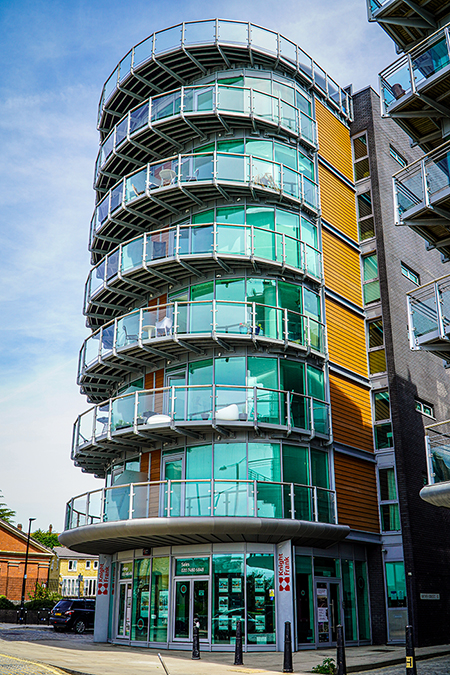 Naturally, none of these projects could be carried out without an experienced and highly skilled workforce. Bell places significant emphasis on staff development, including providing opportunities for the next generation. Huge investment has been made to introduce younger people into the company and create the right environment for them to grow. Three employees are currently at university while several others are undertaking SVQ modules.
Martin also heaped praise on the layer of younger managers coming through the ranks.
"It's about creating clear pathways," he stated. "If you're good enough you'll get the opportunity to move up the business. It doesn't matter who you are, you'll be given the opportunity to rise because we are keen to bring in people, develop them within the business, and have them pick up the company ethos and run with it."
The skills gap currently engulfing the construction industry both north and south of the border has been well documented.
Stuart added that he and Martin believe the sector has 'undersold' itself over the years when it comes to explaining the rewarding careers on offer. He is confident the tide is turning on this – with Bell playing its part in changing the image of construction.
"We've committed to the young people in our business but it's not a one-way relationship," he said. "They're giving a lot back and I would actually suggest they've really energised the business over the past two to three years. We've made a number of internal promotions which have been on merit. We've taken them forward, we've developed them. The struggle for the industry of late has been availability of skilled staff. Unfortunately, there aren't quick fix solutions. These are long-term commitments employers are now making and we make.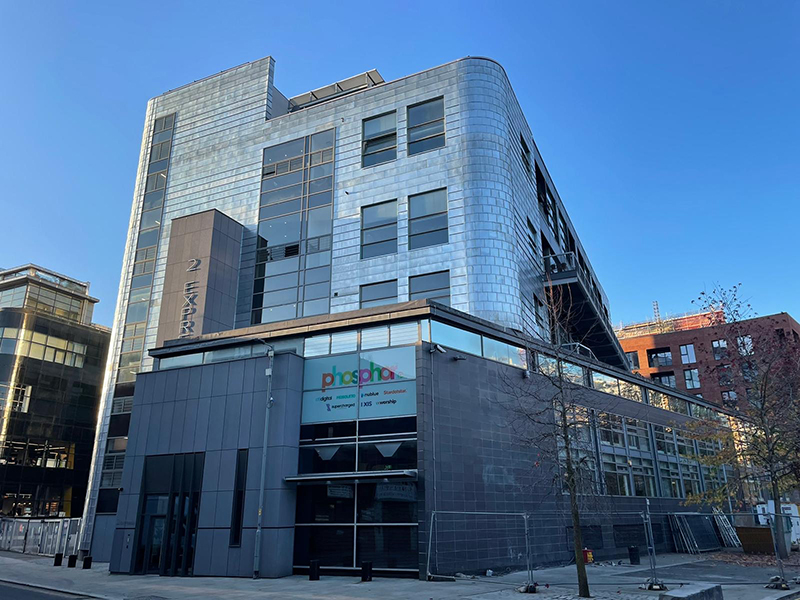 "We've got a third generation Bell now in the company with Martin's son Harry. He's an assistant site manager. He's treated precisely the same way as any other young person in the business."
Like all construction firms, Bell has had to grapple with a myriad of issues in recent times including inflation and the rising cost of labour and materials.
That the business has successfully navigated these challenges and grown in the aftermath of a pandemic is testament to the resilience and underlying strength of the company.
A further challenge the business shares with all other organisations in the sector revolves around the environment and helping to create a more sustainable built environment.
LED lighting, hybrid vehicles and electric car charging points have all been added in a bid to reduce Bell's carbon footprint. The firm is also continuously monitoring developments in areas such as site accommodation and the way in which materials are recycled.
Looking to the future, Bell has its sights set on steady, sustainable growth, with the firm anticipating further challenges, especially around resource. The company is well positioned, however, to capitalise on some of the opportunities that look set to become available in the years ahead.
"Employees are the single biggest asset in our business," Stuart concluded. "Because our business is scaling up, we have to ensure we scale up in a controlled manner. A large part of that is going to be increasing the resource that we have, but it needs to be increased aligned with the quality of staff the company is accustomed to, embracing the company's philosophy, and continuing to meet our clients' expectations. Undoubtedly, there are things that change in the industry. By way of an example, we're aware of other opportunities in terms of housing stock, sustainability, carbon footprint. The company will continue to evolve within the construction industry to meet those demands and continue to be successful."