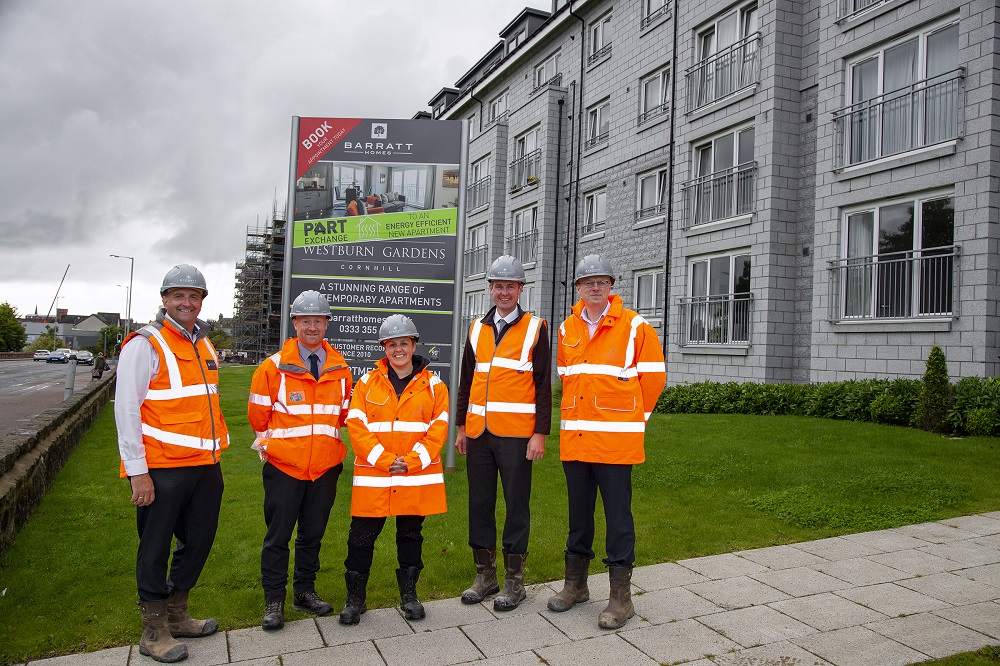 KIRSTY Blackman MP was recently welcomed by Barratt Developments to Westburn Gardens in Westburn Park in celebration of its site manager's Pride in the Job Quality Award win.
Scott O'Donnell, site manager at Westburn Gardens, received the Pride in the Job Quality Award, known as the 'Oscars of the housebuilding industry', from the National House Building Council (NHBC).
This year, a total of 19 site managers from Barratt Developments Scotland, which includes Barratt Homes and David Wilson Homes, won a top national award for the quality of the homes they are building – the most ever received by the housebuilder in Scotland.
Kirsty Blackman, MP for Aberdeen North, visited the project to meet Scott along with David Palmer, MD of Barratt and David Wilson Homes North Scotland, and construction director Kevin Urquhart. Kirsty was given a tour and introduced to other Barratt employees from both the sales and construction team.
David Palmer, MD of Barratt and David Wilson Homes North Scotland, said, "We were thrilled to welcome Kirsty Blackman MP to Westburn Gardens and to demonstrate the quality which we are building across all tenures in her constituency. The Pride in the Job awards acknowledge the work we're doing to showcase our commitment to building the highest standard of homes in Aberdeen and across Scotland, with our elite site manager Scott O'Donnell being among those demonstrating our award-winning customer care."
Kirsty Blackman, MP for Aberdeen north, added, "It was fantastic to have the opportunity to visit Westburn Gardens and to meet some of the developers from Barratt Homes. I am very pleased to see modern homes being built which are in walking distance to Aberdeen city centre and other attractive locations for leisure activities, such as neighbouring Rosemount.
"I believe the Pride in the Job awards are a great way of ensuring that hard work and dedication is celebrated in the field of site management. I would like to congratulate Scott O'Donnell again on this superb achievement."
Westburn Gardens, situated in Aberdeen city centre hosts an array of energy-efficient apartments and townhouses.