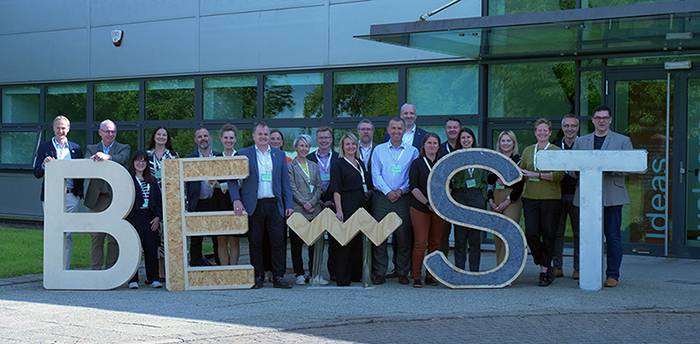 SCOTLAND'S national innovation centre for construction and the built environment, BE-ST (Built Environment – Smarter Transformation), has welcomed 13 leading figures from across the sector onto its board to help accelerate the industry's transition to zero carbon.
The new members are said to bring 'diverse expertise' from client organisations and a range of industry perspectives including strategic leadership, climate change experience, quality and standards, specialist low energy and low carbon design and construction, sustainable manufacturing and products, digital transformation, heat decarbonisation and energy efficient retrofit, as well as from across Scotland's skills ecosystem.
The opportunity to expand BE-ST's board comes as a number of existing members step down, having steered the organisation through its recent phase of growth.
The full list of new board members is as follows:
Susan D'aish, director of climate response, Jacobs
Dr Mila Duncheva, business development manager, Stora Enzo Wood Products
Saffron Grant, MD, Digital Construction Skills
Jonathan Hines, MD, Archetype Ltd
Ian Hogg, technical services director, Balfour Beatty
Stella McManus, principal & CEO, South Lanarkshire College
Simon McWhirter, deputy CEO, UK Green Building Council
Gordon Mitchell, chief innovation officer, Key FM/Wholus
Jennifer Phin, MD, AC Whyte & Co Ltd
Jonathan Shaw, operations director, Harvey, Donaldson & Gibson
Linzi Shearer, learning and improvement lead, Legal & General Homes
Duncan Smith, energy and sustainability manager, River Clyde Homes
Alan Wilson, MD, SELECT & chair of Construction Industry Collective Voice (CICV)
Simon McWhirter, UKGBC's deputy chief executive and lead for UKGBC Scotland, said, "We're always looking to work with partners who can help pull the powerful levers of change needed to radically improve the sustainability of the built environment. In Scotland, BE-ST is eminently positioned to offer that. Strategically keyed in across the Scottish construction and innovation space; and I look forward to helping drive that forward both in Scotland and elsewhere across the UK."
Linzi Shearer, learning and improvement lead, Legal & General Homes, added, "Having been a collaborator and supporter of BE-ST for many years, I am delighted to join the governance board. I am passionate about supporting the UK's transition to net zero by contributing to conversations and actions that will ensure that there is a robust, relevant skills pipeline in place to address the scale of the challenges ahead. I hope to contribute to BE-ST's mission by championing the exciting work that is already underway."
Stephen Good, CEO of BE-ST, commented, "I'd like to say a huge thank you to those board members who are stepping down having supported BE-ST and our mission passionately over the past three or four years. Knowing they will remain actively involved through our Innovation Champions network is testament to their ongoing commitment to drive transformational change across the sector. The opportunity to work with our new board members across the range of innovation and transformation programmes and platforms we're building for our industry, public sector, academic and citizen communities, is exciting and the team and I can't wait to benefit from their expertise."
Andy Outram, chair of BE-ST's board, said, "To our new board members, I'd extend the warmest of welcomes and thank them all for giving up their precious time to support BE-ST as we step up to meet our built and natural environment climate obligations. The diversity of backgrounds and calibre of new board members will ensure BE-ST continues to build a deserved reputation as a national innovation asset for construction and the built environment, and a committed leader of change across the sector."