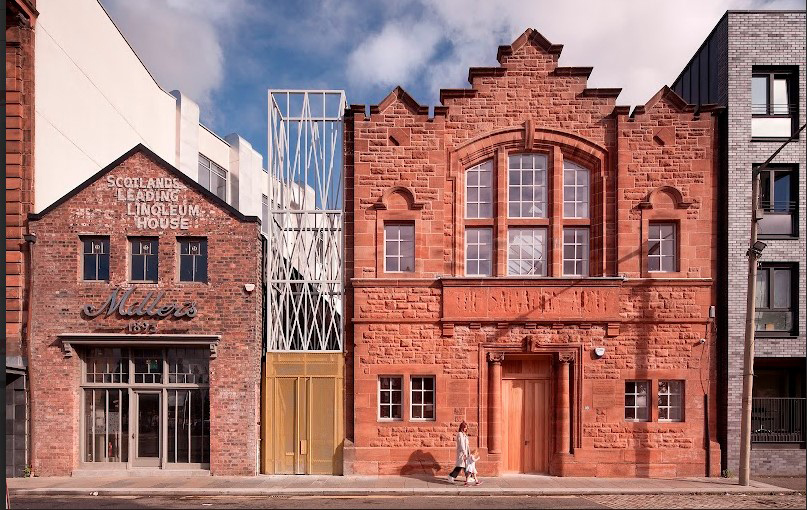 A former Salvation Army Citadel has been transformed into new office space in Bridgeton in the east end of Glasgow.
Now known as New Olympia House, the space is expected to support in the region of 30 full-time jobs.
The £1.7 million development has been spearheaded by Clyde Gateway, and has resulted in 280 sqm of 'modern and flexible' commercial office space. It has been designed by Glasgow-based architectural practice O'DonnellBrown.
The design of the refurbished property includes a large sculptural metal tower called the Beacon in a nod to the adjacent Bridgeton Umbrella.
The internal spaces have been approached with a 'de-furbishment' strategy, exposing brickwork, roof trusses, and existing timber linings, whilst improving the energy performance with new insulation, air source heat pump technology, and underfloor heating.
Main contractor Redpath Construction delivered a range of community benefit initiatives including giving work experience to students from Trinity High School in Rutherglen and supporting Green Trees Nursery in Bridgeton by refurbishing its garden and play space and running a toy appeal at Christmas.
Clyde Gateway purchased the property in December 2020, with planning permission granted in February last year, and work beginning on site last summer.
Martin McKay, chief executive at Clyde Gateway, said, "We bought this iconic building a few years ago because we knew this had great potential to drive investment right into the heart of Bridgeton. It is a great space for organisations and businesses to add to the civic organisations that call Bridgeton home.
"A key objective of this project was to ensure that we did not lose the charm of the original building. The architects, O'DonnellBrown, and builder, Redpath Construction, have carried out an excellent job whilst updating the space into a modern and energy efficient workspace.
"Clyde Gateway has refurbished and built a number of properties in the immediate vicinity, bringing businesses and organisations to the area. We cannot wait to get new tenants utilising this space too and investing in the east end of Glasgow."
Susan Cardwell, marketing & business development manager at Redpath Construction, added, "It has been a real privilege to be part of the transformation of the building with Clyde Gateway.  As a true regeneration project, we have not only been able to breathe new life into New Olympia House, creating a bright and sustainable office space, we have also had the opportunity to support local young people through training and made lasting relationships with the fantastic team at Green Trees Nursery.  There are few projects where the impact on the local community has been felt more keenly."
Jennifer O'Donnell, director, O'DonnellBrown, said: "New Olympia House provided an exciting opportunity to repurpose a historic building and further strengthen one of Glasgow's historic Crosses. The regeneration of Bridgeton Cross over the last decade has been tackled with ambition and care and O'DonnellBrown enjoyed working in this context with the project team and Clyde Gateway to give this local landmark a brighter future and new lease of life."