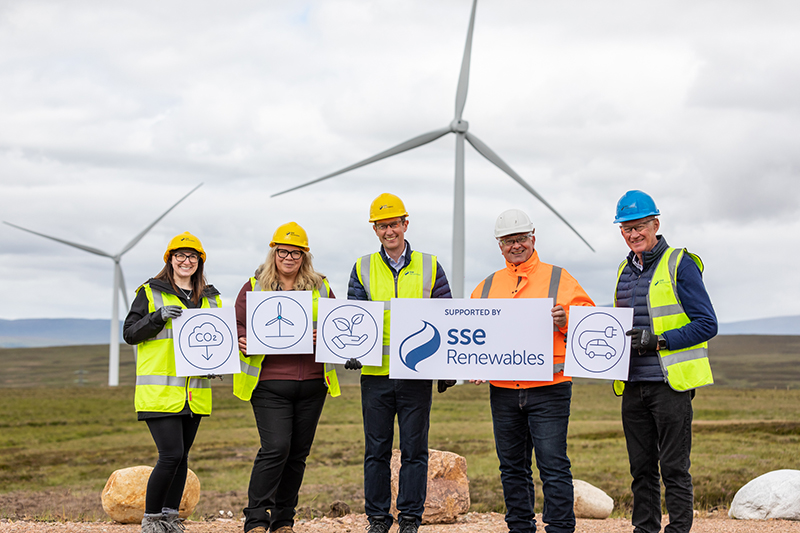 SSE Renewables has donated over £10 million to community groups across the UK and Ireland in the last year.
A total of £10.4 million in wind-powered community funding has been presented to 1,066 UK and Ireland projects, including 168 projects focused on community net zero transition and 111 scholarships. The donations come from SSE Renewables' wind farm community funds across both islands, including funding from some of the UK and Ireland's largest onshore and offshore wind farms.
This year, the projects supported range from the provision of energy efficiency measures for households in extreme fuel poverty in the Highlands to employability supports for young people with autism in Perthshire, and from training support in retrofit technologies for re-skilling workers in Galway, to providing lunches and social activities to vulnerable residents in north Lincolnshire.
Stephen Wheeler, MD of SSE Renewables,  said, "With renewables now the most cost-effective form of electricity generation, SSE Renewables' growing portfolio will support a more affordable energy future, and ensure countries have the homegrown, sustainable energy needed to boost energy security. SSE Renewables has a long and proud history of sharing the economic value from our renewables assets with communities. Our community funds are crucial in supporting the people and places that host this critical renewable energy infrastructure and given their scale, have the potential to transform the social capital of local places."
SSE Renewables said much of this year's funding has gone towards supporting a green transition. Over £3 million has been donated to projects which support a green future including electric-powered community vehicles, insulation for households in extreme fuel poverty, and testing new and innovative approaches to agriculture. The company's funds have also been supporting communities deal with the rise in the cost of living. This has included funding additional advice services, increasing funding for capital projects, and supporting community warm space schemes.
The funding also targeted the impacts of living with fuel poverty, with a particular focus on health and wellbeing. In the Highlands, where SSE Renewables said communities face worse extreme fuel poverty than residents in other areas of Scotland, SSE's Sustainable Development Fund made its largest award of £1 million to support the Highland Energy Efficiency Programme. This programme provides energy efficiency measures including solar, battery, air source heating and insulation to households in extreme fuel poverty. The support from the Sustainable Development Fund will enable 250 households to have warmer and more efficient homes.
The past year has also marked the completion of the Beatrice Community Fund. A joint venture partnership between SSE Renewables and RRPL, TRiG and Equitix, Beatrice Offshore Wind Farm provided a community fund worth £6 million. The fund has supported 361 local projects including helping 73 rural jobs and enhancing 64 community assets, such as the provision of £50,000 in emergency funding to kickstart a £1.8 million infrastructure project to restore the East Beach Bridge in Lossiemouth after access to the beach was previously closed for safety reasons.
This year's Community Investment Review also details the education funding support SSE Renewables is providing from its scholarship programmes. In the last year, the company has supported the provision of scholarships for 111 young students who live near some of the company's bigger wind farms.