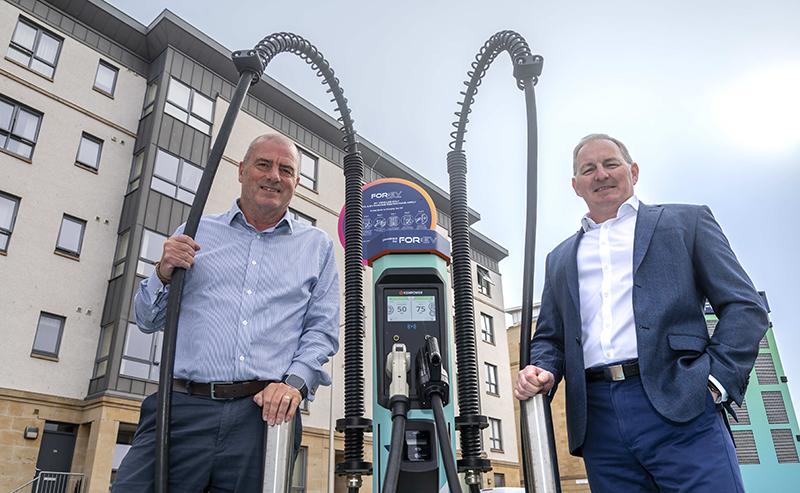 JOHN Watson has been appointed as the new chair at FOR:EV, the Edinburgh-based provider of EV charging infrastructure.
He succeeds Steve Dunlop, who is taking up the full-time role of chief executive as the business gears up for 'substantial' growth.
Founder and former CEO Lindsay Wallace takes on the role of executive director sales & innovations Europe, to continue his work in broadening the reach of new EV charging models.
The new-look leadership team comes during a growth phase for the business, which has seen it launch a new brand and website and begin plans to install 1,700 EV charge points across 600 sites in Scotland and beyond.
In addition to focusing on publicly available 'destination' charging points at shopping centres, businesses, transport hubs and visitor destinations, FOR:EV has developed a bespoke 'charging as a service' model for transport fleet owners and operators.
This dual focus supports the vision of the business's key investor and shareholder, the Scottish National Investment Bank, to drive forward Scotland's transition to net zero.
John Watson has held a number of executive and non-executive positions globally. He is an operating principal of Global Infrastructure Partners (GIP) and is CEO of one of their companies, Crosswind Developments Ltd, established to deliver the regeneration of excess land at Edinburgh Airport.
Prior to joining GIP, he was MD of Lloyds Banking Group's $50 billion SME 'ending portfolio.  He is heavily focused on sustainability businesses, also being chair of vertical farming innovators, Intelligent Growth Solutions.
On his appointment to FOR:EV, John said, "It's a privilege for me to join the forward-thinking team at FOR:EV. We hope to make a major contribution to Scotland's transition to a net zero economy by boosting our electric vehicle charging infrastructure across the country.
"We know that investors and customers are actively backing those organisations that get commercial EV charging right. The fresh approach FOR:EV is taking is simple, low risk and scalable for businesses and easy for consumers to use."
As he takes on the full-time role as CEO, Steve Dunlop added, "There has never been a more critical time for the private sector to step in and help shape the delivery of the green economy. We urgently need a high-quality, user friendly, accessible EV charge point infrastructure to overcome the current barriers to transitioning to electric vehicles. FOR:EV is ready to tackle this challenge and I look forward to helping the country find solutions."
FOR:EV's business model has two areas of focus:
Charging infrastructure that is open to the public on a pay as you go basis. The adoption of a user-friendly 'tap-and-go' approach is tipped to break down a key barrier to EV charging away from home.
A dedicated 'charging as a service' solution for fleet owners and operators that delivers EV charging infrastructure for an electric fleet.
Andy Clapp, executive director – investment portfolio management at the Scottish National Investment Bank, commented, "FOR:EV shares the bank's mission to support Scotland's transition to net zero, and has a robust pipeline of locations across Scotland to install fast and rapid EV charging infrastructure, as well as providing an innovative 'charging as a service' model for fleets of all sizes. We look forward to seeing the company grow the availability of charging points across Scotland in the coming years."
FOR:EV's founder Lindsay Wallace concluded, "With initial investment from Scottish National Investment Bank in place we have been able to supercharge our capabilities and will be targeting installation at multiple sites across Scotland in the next 12 months, as well as investigating other funding sources that will support our ambition to roll out 100% green energy charging across the rest of the UK, and beyond. With Steve and John on board, and our initial funding beginning to make a real impact, we are perfectly positioned to achieve our goals."