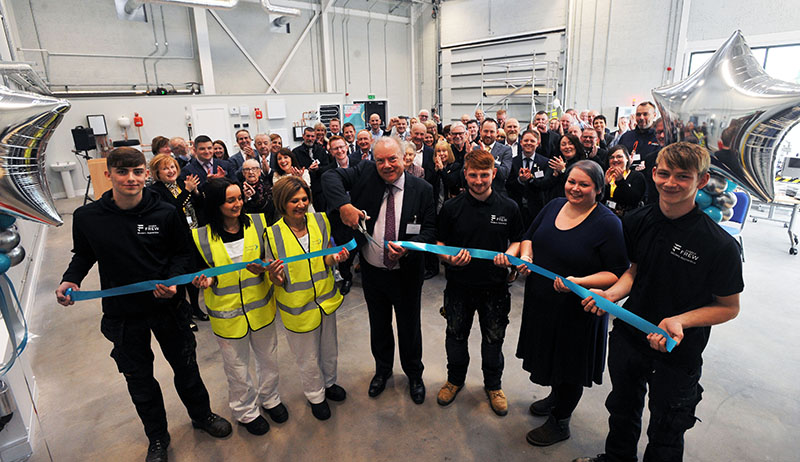 AYRSHIRE College has officially opened the new Willie Mackie Skills Hub in Killwinning.
The low-carbon, two-storey building provides a flexible learning space that can respond to emerging technologies and allows Ayrshire College to offer vocational training in sustainable and SMART technologies alongside traditional construction trades.
The building has been made possible because of 'significant' funding contributions from Magnox and the Nuclear Decommissioning Authority (NDA) – through the Magnox Socio-economic scheme – North Ayrshire Council, the Ayrshire College Foundation, and the Scottish Funding Council.
Designed by Thomson Hunter Architects and constructed by Ashleigh (Scotland) Ltd, the Skills Hub is equipped with the latest industry standard tools and equipment.
Speaking at a ribbon cutting ceremony to officially open the building, Ayrshire College principal and chief executive, Angela Cox, said, "We are thrilled to launch this innovative facility that will inspire our future workforce, enable our current students to excel in their chosen career and support our employers to remain competitive in sectors being disrupted by new technologies. The Willie Mackie Skills Hub embodies our commitment to providing Ayrshire with the skilled workforce it requires to thrive."
The Skills Hub is named after former chair of the Ayrshire College board of management, Willie Mackie, who stepped down from the role after completing the maximum term of office of a regional college chair.
Ayrshire College has now expanded its apprenticeship programme into North Ayrshire, with the first cohort of apprentices from James Frew Ltd welcomed to the state-of-the-art training facility earlier this month.
Rob Fletcher, Magnox CEO, added, "Magnox is committed to supporting the local communities near its sites and this is a great example of how we have been able to work with an organisation that makes a real difference to the lives of the people in this area. Our decommissioning mission at Hunterston A, and in future years Hunterston B, relies on developments of this nature. Magnox is committed to encouraging and developing education and skills and creating opportunities for sustainable employment.
"The Willie Mackie Skills Hub will be the primary location for high quality STEM vocational skills development for college students, primary and secondary school pupils, employers and their workforce and North Ayrshire residents seeking to train and upskill. Our engagement with the college is helping us achieve our objective to create a sustainable future for individuals and local organisations in the area."