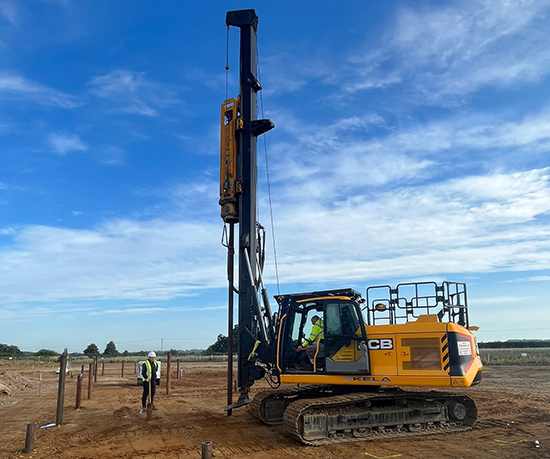 AKELA Ground Engineering has been appointed by Persimmon Homes East Midlands to deliver piling work for its forthcoming housing development, The Willows, in Norfolk.
The project comprises 226 plots of one, two, three, four and five-bedroom homes, with a mix of detached, semi-detached and terraced. Initially working across the first phase of works, Akela will deliver 369 driven tubular steel piles on plots one to 29.
Situated on the outskirts of the market town of Downham Market, the site consisted entirely of undeveloped agricultural land, having been utilised by the RAF during WWII.
Will Payne, general manager at Akela Ground Engineering, said, "Working in partnership with Persimmon Homes on this exciting new development is a great opportunity for Akela to showcase its expertise and deliver more work south of the border. We're really pleased to be working with the team at Persimmon and thanks to our work in Norfolk we are fielding enquiries from its offices across the country. We're already gearing up to support them on a new project in Hull which will begin in this month."
Mark Newsome, commercial director for Persimmon Homes, added, "We're delighted to be working with Akela on The Willows development in Downham Market. Akela's attention to detail, competitiveness and efficiency secured them this partnership that will see them carry out the piling works required, assisting us to make a start on our exciting new development. Persimmon is committed to reducing their carbon footprint as much as we can, so the partnership with Akela is perfectly aligned."
Utilising a specially modified JCB X Series tracked excavator for its piling and foundations work, Akela revealed it will be able to support clients with cost savings from lower bearing pressures, as well as environmental benefits thanks to better fuel efficiency. By installing recycled tubular steel piles, Akela added that it will help Persimmon further reduce its carbon footprint and improve accuracy during pile installations from the purpose built piling plant.
The JCB X Series comprises a JCB 220X base machine fitted with BSP-TEX Ltd 12.5m high mast and a DX Range piling hammer. The combination can deliver a mobile, self-erecting, 28-tonne piling rig capable of driving in steel, wood or concrete piles up to eight metres in length.