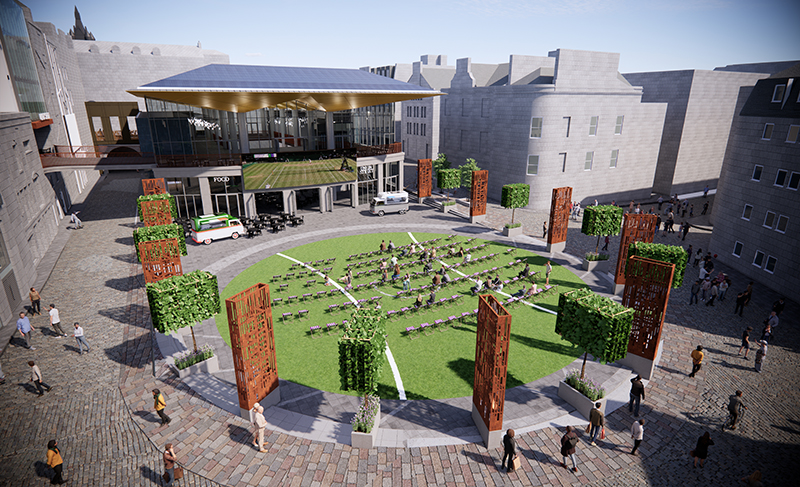 AN open space is set to form part of the Aberdeen Market, the city's local authority has announced.
The proposal for the outdoor space was approved at a full Aberdeen City Council meeting and comes in wake of the announcement of McGinty's Group being chosen as the operator of the market.
Set to be built on the site on the site previously occupied by a BHS store on Union Street and the old market on The Green and Market Street, the project will bring an 'attractive' market-style floorspace to create a destination venue which promotes local produce and goods.
Aberdeen City Council said that the next steps for the development will see the ongoing processing of a revised planning application which takes into account a modified design for the market, which will allow for more open space on The Green and more feature landscaping and lighting.
The local authority said that it is also anticipates that permanent hoarding around the site will be in place over the coming weeks once some snagging works are completed by the demolition contractor, which will allow for enabling works – including the demolition of the BHS store concrete façade.
Work is also ongoing to ensure that the design is progressed to meet the agreed dates for work packages and tender inquiries with the aim of having a site construction start in place by early 2024, the council said.
Aberdeen City Council co-leader, councillor Christian Allard, said, "Today's report, on the back of the naming of a local operator, marks another milestone for the creation of the city's new market and the reinvigoration of the city centre as we seek to attract more people into the traditional heart of Aberdeen.
"We are looking to progress the project as soon as possible. It will create not only an indoor food market but also an inviting and spacious outdoor area which can host events and draw more visitors to the historic Green."
Co-leader, councillor Ian Yuill, added, "The development of the new market will make a real difference in transforming Aberdeen's city centre. It will also provide both a unique shopping destination and a social hub that will play a key part in restoring Union Street as the heart of Aberdeen."