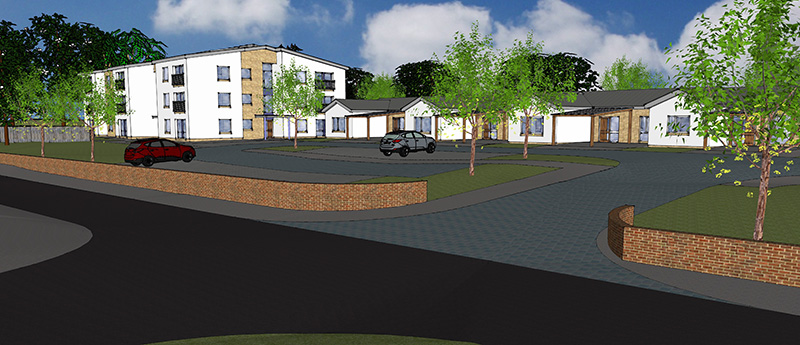 CLARK Contracts is currently on site constructing a new council housing development on the site of the former Oakbank Care Home in Polmont.
The development, being completed for Falkirk Council, will comprise three blocks of accommodation. The first of these is a three-storey block comprising 21 flats, 12 of which will be one-bedroom, and nine will be two-bedroom apartments.
A further seven properties will be constructed, split across two blocks of terraced bungalows, with four two-bedroom units and three one-bedroom units. These bungalows will all be fully wheelchair accessible and have private gardens.
All properties will have private parking, and landscaping works will also be completed.
Completion is scheduled for spring 2024. The development has been designed in-house by Falkirk Council, with Fairhurst acting as structural engineer and Hawthorne Boyle designing the mechanical and electrical services.
Michael Scanlan, director at Clark Contracts, said, "We are excited to be involved in the delivery of this project, which will support the council's overall housing programme, and be continuing to develop our experience within the affordable housing sector."
Councillor Gary Bouse, Falkirk Council's spokesperson for housing and communities, commented, "The Oakbank project in Polmont is an exciting development for Falkirk Council and will help us to provide much needed fully wheelchair accessible and disabled ambulant homes.  The delivery of these 28 additional homes including 21 amenity flats and seven wheelchair bungalows forms part of a special letting initiative to meet the housing needs of the local community."