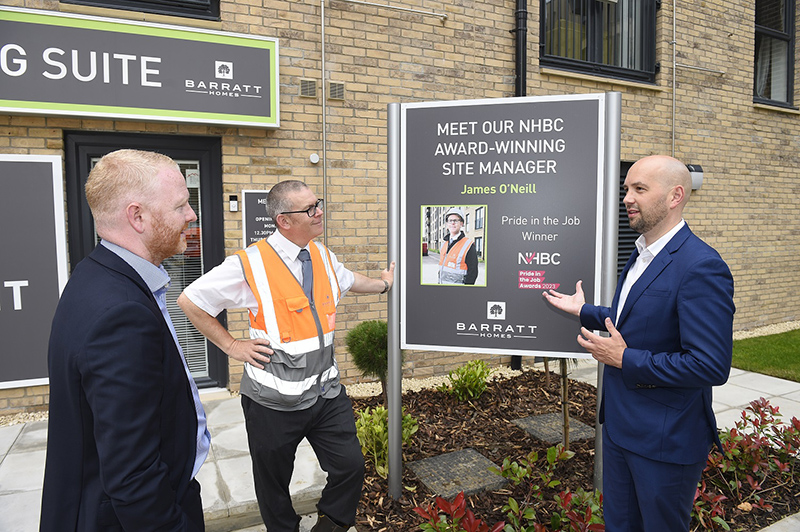 BARRATT Developments recently welcomed Ben Macpherson, MSP for Edinburgh Northern and Leith, to its Merchant Quay development to celebrate its site manager's Pride in the Job Quality Award win.
James O'Neill received the Pride in the Job Quality Award from the National House Building Council (NHBC). A total of 19 site managers from Barratt Developments Scotland took home a national award for the quality of the homes they are building – the most ever received by the firm in Scotland.
Ben Macpherson was given a tour of the development by James and development director for Barratt Developments East Scotland, Nick Wright.
Located in the heart of Leith, Merchant Quay features one, two and three-bedroom apartments.
Nick Wright said, "We were thrilled to welcome Ben Macpherson MSP to Merchant Quay and to demonstrate the quality which we are building across all tenures in his constituency. The Pride in the Job awards acknowledge the work we're doing to showcase our commitment in building the highest standard of homes in Edinburgh and across Scotland, with our elite site managers demonstrating our award-winning customer care."
Ben Macpherson said, "I was glad to visit the development at Merchant Quay and meet some of those involved in the project. As well as private housing, in partnership with local housing association Harbour, 53 high quality, warm affordable homes, of which 43 are for social rent, have been delivered. I was pleased to see that this affordable housing has been built as a priority and is already occupied and to learn that more affordable housing units will be delivered as part of the next phases of the development.
"It was interesting to learn how some of Leith's industrial heritage has been preserved in the communal areas of the development, as many will know the area was previously a glassworks. It was also good to meet site manager James O'Neill, and personally congratulate him on his award, as well as hear directly from some apprentices who have been able to further develop their skills while working on the project."