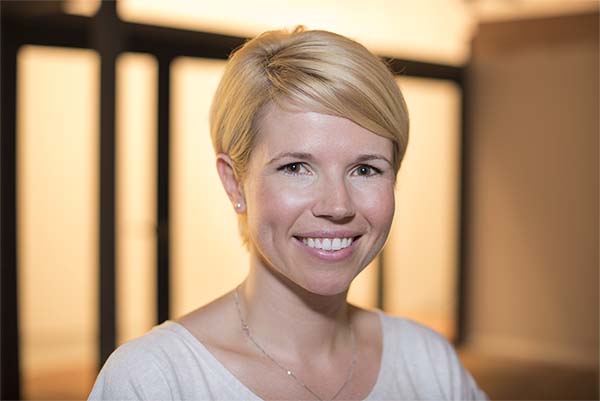 Victoria Brocklesby is COO and co-founder of aluminium doors and windows manufacturer Origin. Since the business was established, Origin revealed it has prioritised its people and their wellbeing, with a family culture being instilled across the company. The firm added that this approach has led to Origin having a much higher employee retention record than average for the construction and manufacturing industries. Here, Victoria explains how to foster a company culture that prioritises employee wellbeing and looks at the business benefits of retaining happy and fulfilled talent.
On average, people spend more waking hours at work and with their colleagues than they do at home with their family and friends. With this in mind, organisations have a responsibility to their staff to ensure that their environment supports them whilst at work, both physically and mentally. All too often, we see headlines about how stressful it is to work within the construction industry and how talent leaves positions as a result, but it doesn't have to be like this.
Staff shortages are a major pain point within the sector. Recruitment experts, Search Consultancy, found that 22% of construction firms are understaffed and the average lead time to fill a position is four months. So, now is the time businesses need to reprioritise staff wellbeing to not only attract, but retain talent too.
How to put staff wellbeing front and centre
When it comes to staff wellbeing, the main thing to consider is the impact any action the business takes will have on the employees. It should not be about making the business seem caring, but actually doing its utmost to support its staff, nurture relationships, and create a happy and committed workforce.
At Origin, we have four key considerations.
Culture
Externally, Origin is synonymous with quality, whereas internally, it is the company culture that ranks as the most important. As a family business, fostering a close-knit community and a sense of belonging has been a vital part of our success, even as we have grown. Whilst we are now regarded as a 'large company', we have made sure to retain the family business feel, prioritising our company values of care, trust, and respect. Laying the groundwork culturally makes it much easier and more genuine to introduce other initiatives that prioritise employee wellbeing.
Benefits
All our employees have access to benefits. Up until a few years ago, this was a Gymflex package. However, we realised that the uptake amongst staff was low, and this approach wasn't serving our employees as best as it could. So, we went back to the drawing board. After a consultation process, we settled on a cash plan scheme. This takes a more holistic approach to employee wellbeing by offering gym memberships alongside subsidised healthcare, 24/7 virtual GP appointments, mental health support, and retail discounts. These things together make for a much more meaningful benefits package and uptake increased to over 70% as a result. We even extended the package to our employees' families because they are an extension of the Origin family.
Learning management system
Having an effective training and learning system not only means a business can upskill its employees, but it shows your staff that you care about their career progression and wider learning. At Origin, we invested in a new learning management system that allows our employees to complete courses related to their job role and broaden their knowledge in other subject areas, such as mental health.
Consultations with senior staff
Alongside showing that you care about staff's health, they also want to know they are heard and that their opinions matter. At Origin, we hold regular town hall-style meetings with senior members of the company to allow our employees to ask questions, give feedback, and make suggestions. Everyone is listened to, with every idea and concept given fair consideration.
These are just a few of the ways we foster a positive staff wellbeing attitude at Origin, but there are an infinite number of ways this could look depending on the company. The main point to remember is that it must feel genuine and suit your staff.
The business benefits of prioritising staff wellbeing
Employers who invest in caring for their employee's health and wellbeing are not only doing the right thing morally and ethically, but they also see several measurable benefits, from higher productivity and profitability to lower staff churn and fewer safety incidents. This is critical in the manufacturing and construction industries.
In fact, research by Gallup found that employees who strongly agree that their employer cares about their overall wellbeing are 69% less likely to actively search for a new job, 71% less likely to experience burnout, are 3x more engaged at work, and are 5x more likely to advocate for their company as a place to work.
As well as the productivity benefits, a happy and cohesive workforce will also have a financial impact too. According to a report by the Society for Human Resource Management, the average cost per hire in the UK is an estimated £3,000. When you consider the employee turnover rate in the UK construction industry is around 20%, you can start to see the scale of the issue. If we take a construction or manufacturing company with 100 employees, the cost of simply filling roles due to staff churn would be £60,000 per year, and that doesn't factor in the necessary training costs, or the lack of initial quality and productivity.
Putting your people first also pays dividends when it comes to growing your business. Investors are increasingly wanting to work with companies that prioritise employee wellbeing. Companies looking for suppliers and trade partners will look favourably at businesses that treat their staff ethically, whilst end users are placing more onus on companies that do genuine good in the world and treat their employees with the same respect.
But remember, whilst there is no one-size-fits-all approach, any strategy must be genuine and have the interests of your employees at its core. For instance, there's no point investing in a cycle-to-work scheme if your employees are all based remotely, or continuing to pay for Friday yoga sessions if there is no take up from the employees themselves. Looking after employee wellbeing is more than simply introducing benefits, it's about their entire experience at work and what would enhance it. Benefits could also be tailored to people's preferences, as what benefit could motivate one could demotivate another – it's about what resonates with your staff. Without genuine compassion, any benefits or wellbeing package will be ineffective.
In summary
Prioritising staff wellbeing is an all-encompassing but all-rewarding investment. It is not something that can be half done, it is either done well or it is done poorly. However, the impact of a thoughtful wellbeing strategy not only benefits employees but provides measurable ROI to businesses too, as well as being a useful recruiting tool.