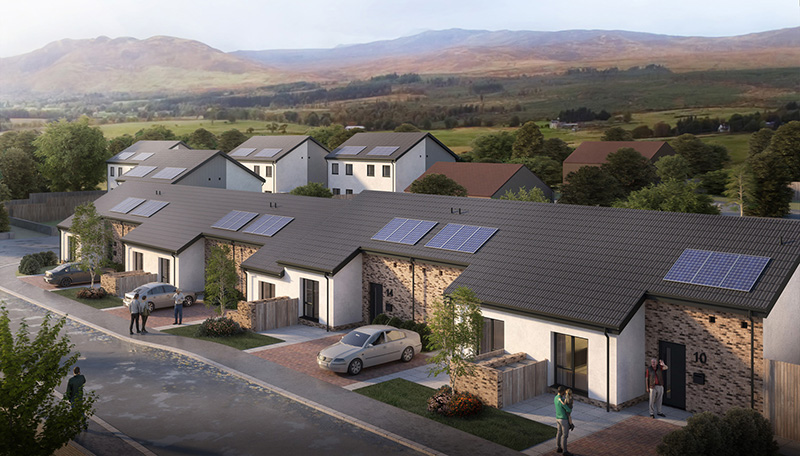 NORDAN alu-clad timber windows have helped deliver energy efficiency to Scotland's largest Passivhaus social housing development to date.
The site in Drymen, Stirlingshire, was the winner of the Small Affordable Housing Development of the Year award at the Scottish Home Awards 2023. The project has seen the construction of 15 new affordable homes for 44 Hanover residents.
To help make its Passivhaus ambitions a reality, Hanover worked with NorDan, specifying its aluminium clad NTech StormGuard windows as they meet the strict performance criteria.
Designed by ECD Architects, the development has been shaped for 'maximum light and optimal solar gain' in homes and the 'highest levels of energy efficiency and air tightness' in line with the Passivhaus standard.
The building fabric includes insulation that delivers high thermal performance and airtightness, and triple glazed NorDan windows and doors that meet the Passivhaus standard for airtightness, solar gain, and thermal bridging.
NorDan explained that its triple glazed windows achieve the Passivhaus requirement for window U-values of 0.8W/m²K because they are designed to carry the additional weight and depth of triple glazed units more easily, unlike many PVC-U windows in the UK.
Contractor Cruden Building was keen to use NorDan solutions due to its knowledge and experience of using its products over the years. Keith Barclay, pre-construction manager at Cruden Building Scotland, said, "Because this was a first-of-its-kind Passivhaus social housing development in Scotland, we had to be sure of quality materials across the board. We were adamant that every product would have to deliver. Cruden has delivered hundreds of social housing projects using NorDan products and has seen, time and again, the value of these windows and doors in terms of build standard, airtightness, and sustainability.
"NorDan's alu-clad timber StormGuard tilt and turn windows more than achieve the thermal performance needed for Passivhaus projects – delivering extremely low U-values, the highest levels of air tightness, a long lifespan and requiring minimal ongoing external maintenance. We have an excellent working relationship with NorDan and having installed thousands of windows and doors across Scotland, we know they will perform at Drymen in terms of aesthetics, performance and durability.
"By insisting on the right products and using more sustainable building methods, in line with the demands of Passivhaus, we believe that each home in Drymen will require up to 90% less energy for heating. This will not only help to combat fuel poverty for residents by reducing energy needs but also keep carbon emissions low throughout the lifetime of these properties."
Mike Stevenson, senior manager strategic projects, NorDan UK, added, "NorDan alu-clad timber StormGuard windows are ideal for the Drymen development, where they meet all the required low operational carbon standards of Passivhaus and help to deliver warm, comfortable, low energy living for the residents. Although Passivhaus design ensures low operational carbon in homes once they are built, it does not measure or assess embodied carbon, which means high carbon materials can currently be used in new build Passivhaus developments.
"In Drymen however, Hanover, ECD and Cruden have come up with the best whole life low carbon solution for the windows and doors by choosing NorDan, as these windows have both low embodied and low operational carbon. NorDan windows and doors offer some of the lowest whole-life carbon of any window material thanks to the extremely low embodied carbon in the sustainably harvested timber used, as well as low maintenance over their 60-year plus life expectancy thanks to the use of vacuum impregnated timber.
"NorDan windows have, on average, a quarter of the embodied carbon of aluminium windows and half the embodied carbon of PVC-U windows. We're looking forward to bringing these benefits to even more Passivhaus developments across Scotland and the UK in the months to come."