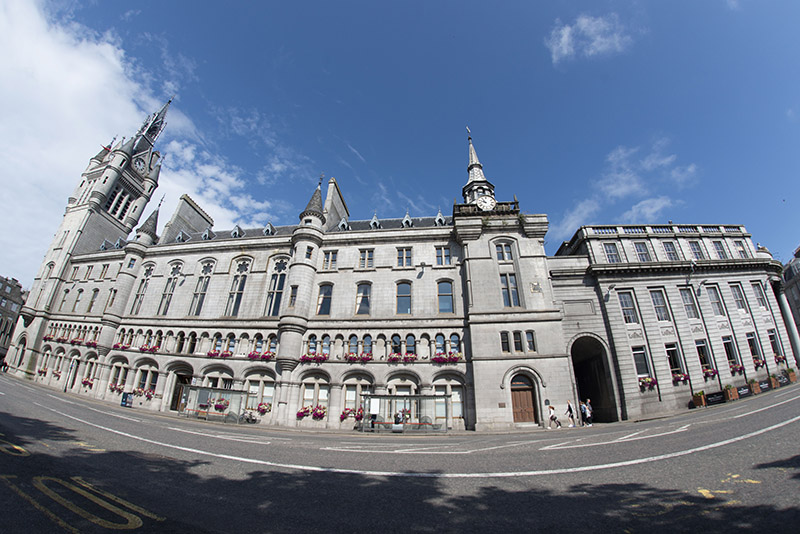 WORK is underway on the £1.36 million delivery of repairs to Aberdeen's 'most haunted' building.
The repair and conservation work to the Tolbooth Museum, which is a historically important asset for the city and one of its oldest buildings, will protect the Grade-A listed structure to allow the museum to reopen.
Built between 1616 and 1629, the building has been closed since the start of the Covid-19 pandemic and hasn't reopened due to a large crack to an internal archway on the ground floor being identified. In addition, 'extensive' repairs are required to other external parts of the building including the roofs, stonework, parapets, and pointing.
The work, which includes replacing the leadwork to match the existing leadwork, stone stabilisation, structural repairs to archway, removal of previous mortar repairs and replace with lime based mix, renewal of timber louvre infills, refurbishment of clock faces, service ducting to improve connectivity of welcoming desk, and repairs to stonework – all using traditional materials and techniques – is being carried out by Aberdeen City Council building services.
Aberdeen City Council finance and resources convener, councillor Alex McLellan, said, "The work on the Tolbooth Museum, one of the oldest buildings in the city, will begin soon to restore and protect the Grade A-listed structure and allow the museum to reopen in due course. People should be aware there will be a significant amount of scaffolding around the building while the repair works are underway.
"There are space and access limitations on this confined site and the scaffolding will occupy some of the width of Lodge Walk. There will also be noise control to avoid disturbance of proceedings in the adjacent Sheriff Court building."
A statement of special interest for Historic Environment Scotland regarding the Tolbooth reads, "Aberdeen Town House, including municipal offices, court house, Tolbooth and city chambers, is a significant example of civic architecture and is of outstanding importance because of its fine and influential Scots baronial design with exceptional interior scheme, conceived by the highly respected architects Peddie and Kinnear.
"The imposing scale of the building with its landmark tower and its striking grey and white 1975 extension, dominates the east end of Union Street in Aberdeen city centre.
"It incorporates an early 17th century Tolbooth, one of the oldest buildings in Aberdeen and its integration with the newer Municipal buildings provides a connection between the old burgh of Aberdeen and the new-found confidence and wealth of the 19th and 20th centuries. It is the embodiment of civic affairs in Aberdeen."