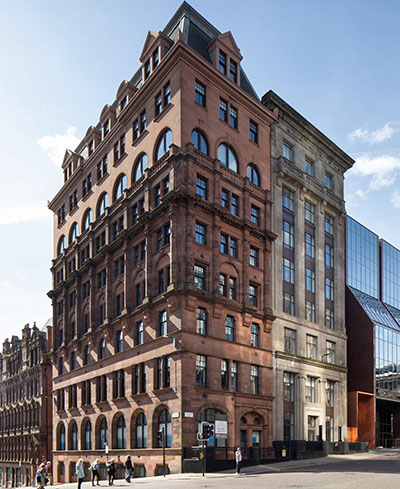 TWO prominent Glasgow office buildings have been bought for a combined £18 million, in two of the city's biggest deals so far this year.
New Amsterdam Invest N.V. has acquired 2-4 Blythswood Square for £9 million and Sutherland House on St Vincent Street for a further £9.05 million.
Knight Frank acted for New Amsterdam Invest N.V. on the purchase of 2-4 Blythswood Square and for the vendor – BMO/Columbia Threadneedle – on Sutherland House.
Currently the Scottish HQ of Chivas Brothers, 2-4 Blythswood Square is a B-listed building comprising 27,125 sq. ft. of office space spread over five floors.
Sutherland House is located in Glasgow's central business district and includes Murphy Wealth, law firm DAC Beachcroft, and recruiter Michael Page among its occupiers. The B-listed building totals 39,378 sq. ft. of office space over nine storeys and has been refurbished in recent years.
Douglas Binnie, capital markets partner at Knight Frank Glasgow, said, "The deals for 2-4 Blythswood Square and Sutherland House underline the attractiveness of and value that can be found in Glasgow. With more realistic pricing creeping in, we are beginning to see expectations between buyers and sellers move closer together – there are lots of opportunities in the current market for those looking to invest, particularly if you are a cash buyer.
"The economic backdrop has undoubtedly been tough for investors, with rising interest rates and, therefore, the increasing cost of debt. But, with a lot of good stock currently on the market in Glasgow and these two deals concluding, we hope to see more follow in the city over the coming months."