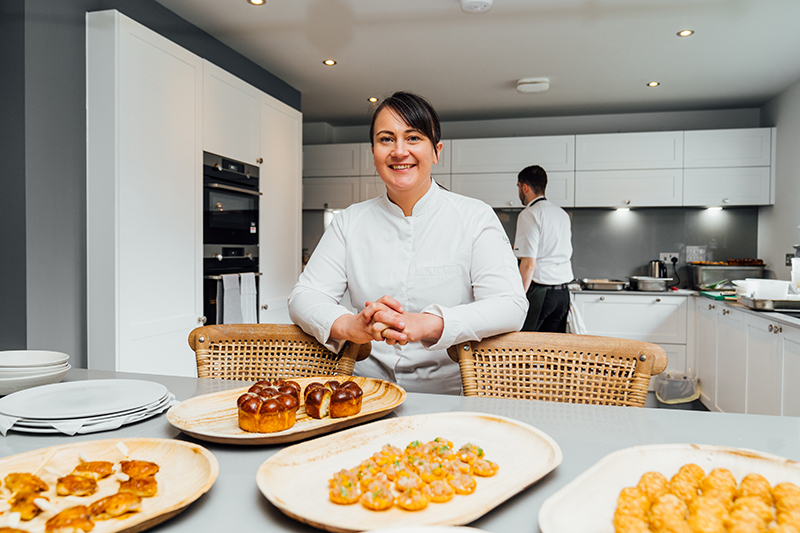 RESIDENTS at a new housing development in Bearsden have been treated to a culinary masterclass by Scotland's only female Michelin Star chef, Lorna McNee.
Lorna, who is head chef at Cail Bruich, visited Robertson Homes' Thorn View development to celebrate the opening of a new showhome.
The six-bedroom Mitchell Grand takes its interior design inspiration from vintage French château living and French-trained Lorna, who won Great British Menu's Champion of Champions in 2019, created a menu fit for the occasion, with French flavours including Loire Valley white asparagus and French Anjou Squab sausage complementing traditional Scottish ingredients.
Thorn View is a development of 47 luxury four, five and six-bedroom homes. The housebuilder invited every customer who has reserved a new home at the site to the Michelin Star private dining experience.
Lorna said, "I live in a Robertson home myself and I absolutely love it so I was excited to come and cook in a brand new kitchen here in Bearsden. It doesn't matter if you are a serious chef or simply somebody who likes to have a bit of fun making food, this kitchen just makes you want to cook and I would honestly be happy to cook in any Robertson Homes kitchen.
"The workspace has been expertly designed with really high-quality appliances and plenty of room to prepare and serve food –  at one point there were probably about 40 people in the family/garden room area and still lots of space for chef Lewis and I and it was a lovely, lively atmosphere.
"I hope we have inspired the residents here to use their new kitchens to experiment with their flavours and cookery."
Robertson Homes has already sold 16 new homes at Thorn View and the residents at the launch event were also treated to live music by Glasgow singer songwriter Nico Ev.
Julie Henderson, sales manager at Robertson Homes, added, "This is the second time Lorna has cooked for Robertson Homes residents and it's great to hear her fantastic feedback on our top-of-the-range kitchens. Thorn View features some of our most luxurious homes to date and the specifications we are including here are incredible. Each home will feature a signature Robertson 'Garden Room' with the award-winning 'Grand' designs offering additional space with an impressive suite across the second floor."