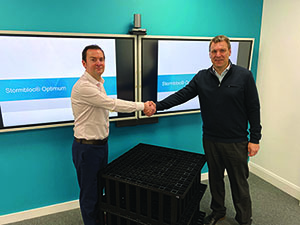 REHAU has introduced a new stormwater management system in partnership with Hydro International, described as 'ideal' for SuDS projects.
Stormbloc is a 'lightweight, cost-effective' geocellular attenuation system, specifically designed for landscaped areas, or areas with limited traffic loading such as driveways.
Ben Puddy, product manager for Hydro International, said the expansion of the Stormbloc Optimum range enables use in a wider variety of areas. "We are confident this new offering will allow designers and specifiers the option to use Stormbloc for green spaces or light trafficked areas," he added.
Stormbloc is comprised of only two main articles – the ground element and base plate – negating the need for side plates and facilitating 'rapid' installation. The system is customisable, with the length, width and height adaptable to meet different drainage environments. The solution's stackable nature also allows it to be transported in large quantities or placed into storage.
The Stormbloc system is manufactured in the UK and typically made using around 80% recycled material.
Steve Richmond, head of marketing & technical for REHAU Building Solutions, added, "The UK has experienced a major flood almost every year since 2007.
"This is clearly not a new problem, and one that must be approached with innovative solutions in order to be effectively remediated. With this in mind, Hydro and REHAU have listened to our customers and jointly developed our new Stormbloc stormwater management system to meet the UK market requirements."