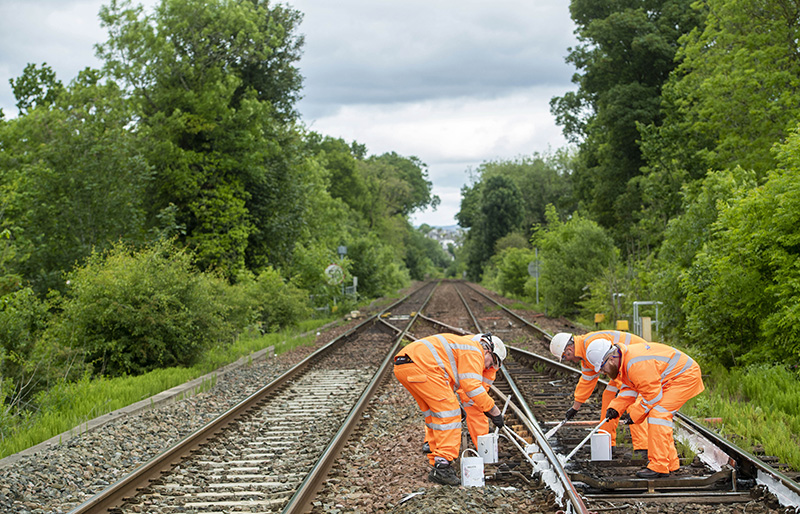 NETWORK Rail has been carrying out a series of works to ensure Scotland's railway is protected against extreme weather this summer.
Rails in direct sunlight can be as much as 20°C hotter than air temperature and expand as they heat up, causing them to curve or buckle.
As a result, engineers have been stressing sections of the track in known hot-spots to help them cope with sudden rises in temperature, as well as painting the rails white in key locations to reflect the sun – which Network Rail said can keep them up to 10°C cooler and help prevent buckling.
Overhead electric power lines are also prone to expanding in prolonged heat, which causes them to sag, which can disrupt train services on busy routes as speed restrictions need to be introduced to prevent trains snagging on the wires.
To combat this, the tension in the wires at some locations has been adjusted to levels that will help prevent sagging and keep trains running.
Remote temperature monitoring equipment has also been installed on rails at known hotspots allowing decisions on whether to implement speed restrictions to be made in real-time when necessary for safety reasons.
Summer rain also presents flash-flooding risks with water quickly running off dry ground onto low-lying rail lines. Tilt meters are being used to detect slope movement near the railway at nearly 100 sites across Scotland – alerting the railway's controllers of potential problems within two minutes of an alert.
Aerial inspections using the Scotland's railway helicopter's high-tech thermal imaging equipment is also helping to identify and fix faults at an early stage while meteorologists are monitoring the weather from a specialist control room in real-time to prepare for adverse conditions.
Liam Sumpter, route director at Network Rail Scotland, said, "Every year we invest millions of pounds in preparing for the summer months to keep passengers and freight moving. We're continuing to prepare for extreme weather using the latest technology, including tilt meters, remote temperature monitoring equipment and thermal imaging equipment for aerial inspections.
"Our engineers, weather experts, and everyone else on Scotland's railway are working incredibly hard to keep the railway reliable for all our customers through the summer and beyond."