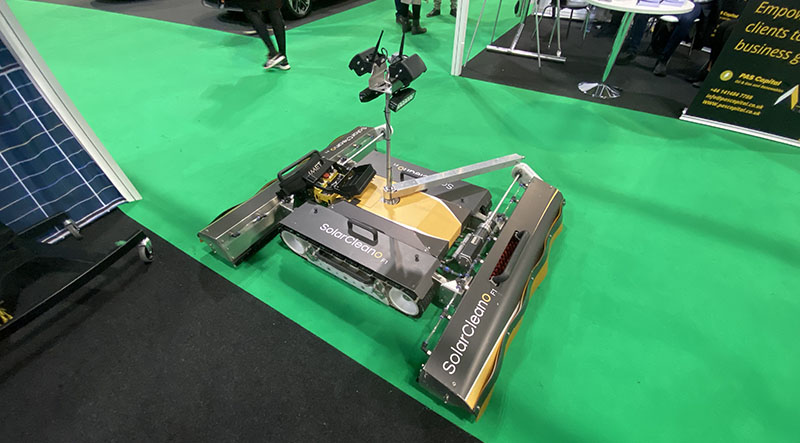 A Luxembourg-headquartered robotics company has revealed that its innovative range of cleaning machines could help Scotland achieve its environmental goals through ensuring solar panels work to their full potential.
Showcasing at the recent All-Energy Exhibition and Conference at Glasgow's SEC, SolarCleano's range of manual and autonomous solar panel-cleaning robots are billed as having the ability to clean the infrastructure 14 times faster than a human team.
The firm was launched in 2017 while CEO Christophe Timmermans was working for his family firm, Fallprotec, which specialises in working from height safety equipment. A customer had asked if they had a solution for cleaning solar panels, which led to the business spotting a gap in the market for a robotic solution to a process which at that point was a laborious manual task.
A prototype was created by Fallprotec, with funding help from Luxembourg's national innovation agency. Today, SolarCleano employs around 30 people and has 800 robots worldwide, including 50 in the UK and Ireland.
"Solar panels can lose around 5% of their productivity every year, so you need to clean them," a spokesperson from the firm told Project Scotland. "It's around 14 times faster to clean with these machines than to clean manually, which needs seven people across two to three days. With these machines, you can clean in a day."
Globally, the machines have found particular popularity in the Middle East because of the issues sand and dust can cause to solar panel performance. In the UK, adverse weather and bird droppings are the biggest mitigator.
Showcasing its F1 machine at the Glasgow event, the firm explained its remote-control options are the best solution for the UK market. Featuring a camera to allow it to be remotely controlled, the F1 can cross gaps up to 70cm and features specialised caterpillar tracks to ensure the 80kg machine doesn't pressure the delicate panels.
"The robot itself is 80kgs, but it's really easy to carry because it can be dismounted into four pieces," the spokesperson continued. "We can take the brush and electrical parts apart, with each part weighing around 15 to 20 kilos."