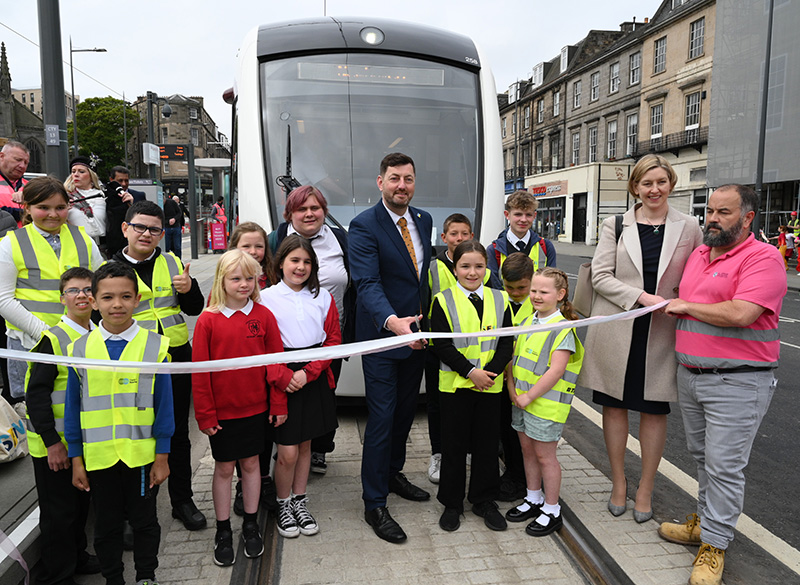 PASSENGER services have officially been launched on Edinburgh's new tram line to Newhaven.
The first paying customers were able to board the service between Newhaven and Picardy Place from 12pm.
Sacyr Farrans Neopul (SFN) was main contractor on the £207.3 million project to deliver the 2.9 mile route, with work first getting underway in November 2019.
Over recent months, rigorous testing to ensure the line, software, and signals work effectively and safely have been undertaken – which included trams running at half and full speed.
City of Edinburgh Council leader, Cammy Day, said, "I'm delighted to be playing a part in this momentous occasion – the launch of tram passenger services between Picardy Place and Newhaven. It's a real landmark moment for Edinburgh, as we bring this high capacity, sustainable and reliable service to the north of the city.
"I know many will share in my excitement, and optimism for the benefits this development will provide. We've already seen vast improvements to spaces along the route and long-term I'm looking forward to the impact it will have on the local economy, which even now we're starting to see."
Maria Ortega, project director on SFN JV, added, "We started work on Edinburgh Trams York Place to Newhaven four years ago, tasked with the delivery of one of the most important and complex light rail projects in the UK. Today we can say that we have achieved that vision successfully. I would like to thank the relentless efforts of our team throughout unprecedented times and recognise the power of the ongoing collaboration we have had with our client, our partners and our supply chain."
James Corrigan, UK MD of infrastructure at Turner & Townsend, said, "In connecting Edinburgh to Newhaven, the opening of the new tram line represents an incredible achievement for everyone involved. This is a significant accomplishment in delivering a greener way of travelling and bringing existing and new communities closer together.
"As a key part of the programme team, I am immensely proud of the integral contribution that our people have made to the project from its early stages through to the tram's successful opening."
Cath Leech, MD of Anturas Consulting, commented, "Anturas Consulting has been involved with Trams to Newhaven from the start and it is fantastic to be part of the team that has delivered such an important project for the city. This line will help deliver economic, social and environmental benefits to Edinburgh and secure a sustainable legacy for future generations."