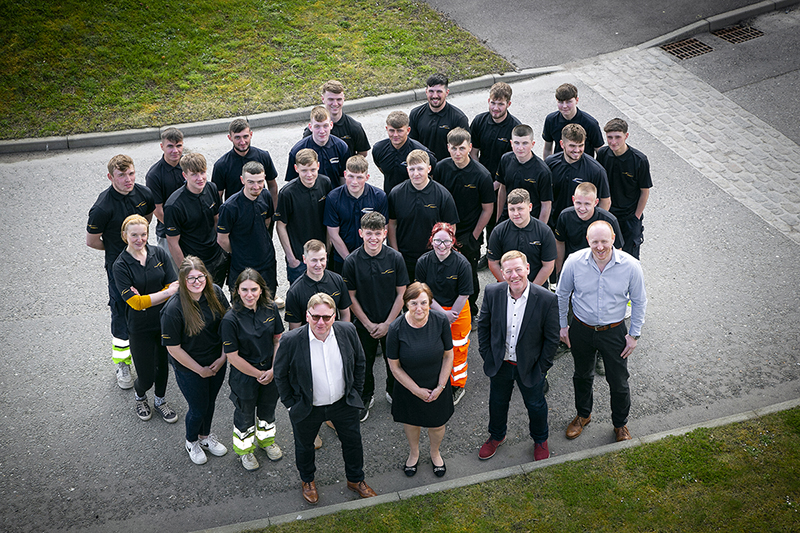 A number of civil engineering contractors in Scotland's north east have collaborated to transform opportunities for would-be construction apprentices in the region.
When Rachel O'Donnell became HR manager at W M Donald two years ago, she was shocked to discover that apprentices in Aberdeen would have to travel to Glasgow for their training. She set out to remedy the situation and half a dozen local firms have now committed to filling a two-year civil engineering foundation course at North East Scotland College (NESCol) every year for at least five years.
Combined with other initiatives, the move is designed to help alleviate skills shortages and help to produce a steady pipeline of construction workers to safeguard the industry's future.
Rachel told Project Scotland, "I started with W M Donald in March 2021. One of the tasks I was given was to look at the apprenticeship scheme. We'd dabbled in it before but when I started, there were no apprentices. I was asked to look at what was out there and what we could do. My background is in the oil and gas industry. I didn't know anything about apprenticeships, so I had to start from scratch. I did a lot of research and was surprised to find out that Aberdeen didn't run the modern apprenticeship for civil engineering.
"That was my first obstacle. I recruited 12 apprentices only to find I had nowhere to put them. The closest college was Glasgow. Out of the 12 apprentices, we had six based in Aberdeen and six in Dundee and Perth. For the Aberdeen guys, it was a fair trek as they had to travel to Glasgow four times a year for two weeks. Some of our apprentices are 16 years of age and have never been away from home."
Rachel discovered that NESCol had previously ran a course in civil engineering, but not enough apprentices enrolled to make it cost-effective. With the help of W M Donald's operations director Ian Gray, the firm reached out to a number of competitors including Hunter Construction, Nicol of Skene, JKR Contractors, Leiths and A&A Civils to assess whether there was an appetite and demand to reintroduce the course.
"We're all in the same boat," Rachel added. "We've got a skills shortage and need to look to change that. They totally agreed and we set up a forum. The end result is we all committed to filling a class of a minimum of 16 apprentices between us for the next five years.
"North East Scotland College had to recruit a teacher, re-look at the syllabus, and make sure it was right for them. They said yes and started running it last year."
The first year of the course covers topics including health and safety; productive work practices; installing, maintaining and removing work area protection and safety equipment; laying modular pavements; operating tools, plant and machinery; placing and finishing non-specialist concrete; installing drainage; and reinstating ground conditions.
Year Two, which W M Donald has helped to shape, encompasses the likes of manual handling, abbrasive wheels and white finger; confined spaces; vehicle marshalling; NRSWA; EUSR (category 3-5); banksman slinger; asbestos awareness; mental health first aid; and first aid at work.
Interest in the apprentice scheme has soared and the invitation is now being extended to the wider industry, with Rachel seeing scope for expanding it further.
W M Donald recently won the Staff Matter category at the Northern Star Business Awards and is a finalist in the upcoming CHeRries Awards for Learning and Development, Employer of the Year and HR Leader of the Year. The company has also started to visit schools and careers fairs to promote the benefits of construction careers. Rachel is keen to dispel the myth that the sector is merely for those who are not academic.
"The key for us is getting the message out there," she added. "We're doing technical days, we're doing career days, we're bringing the apprentices along with us. We're also trying to change the taboo that it's a male-orientated industry. We've got three female apprentices, so I bring them to the school fairs. The next challenge is the parents. For Aberdeen anyway, oil and gas is always the 'go to'.
"I tell every apprentice that we take on that they could be the next managing director, the next technical engineer, the next QS, the next HR. It's not just about being out there digging holes. Our industry is a skill. My son's here and the qualifications after year two are just phenomenal. You wouldn't get that anywhere else."
Today, W M Donald has 26 civil engineering apprentices, one plant mechanic apprentice and four graduate civil engineering apprentices within the business. From the first cohort of apprentices recruited two years ago, ten are due to graduate this summer and continue their construction sector journey.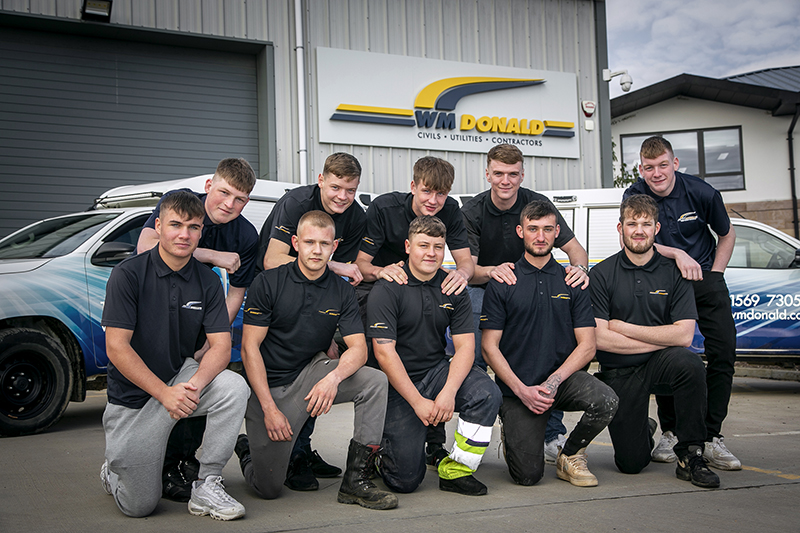 Rachel concluded by emphasising the importance of providing clear career pathways.
"It really is important because that's how you're going to retain them and that's how you're going to sustain W M Donald's future and the industry's future. You have to invest in them. We're already looking at the next steps for these ten. We're talking about a graduation ceremony. What training courses can they do now? Our competitors are doing the same because as a collective, we sat and discussed that. We've invested in these individuals for two years but that's just the start."