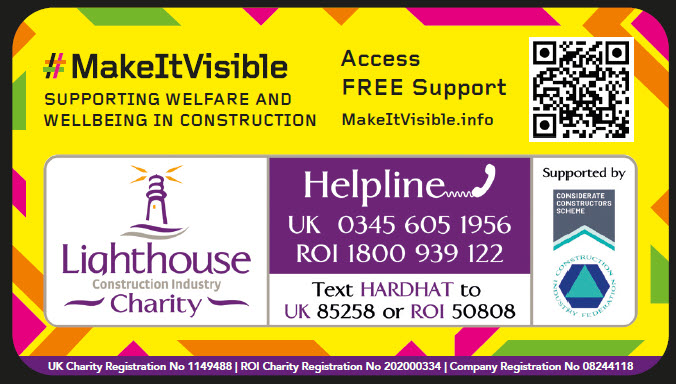 A new hub has been launched to help in the fight to reduce suicides and improve welfare and wellbeing in the construction industry.
The Make It Visible Portal provides access to information, advice and guidance and is a pathway to free support.
Its content – based on research carried out by the Lighthouse Construction Industry Charity – features sections on emotional, physical and financial wellbeing.
A map of 'Lighthouse Beacons' – drop-in self-help groups – is included, alongside videos of construction workers talking about their experiences with issues such as stress, anger and anxiety.
The website is managed by the Lighthouse Construction Industry Charity, and forms part of the Make It Visible initiative that brings contractors, clients and professional bodies together to try to improve the industry's record on worker welfare and wellbeing with an emphasis on mental health.
The site, which has been developed with funding from the Construction Industry Training Board (CITB), also includes emergency numbers for those in need to contact for 24/7 help.
Bill Hill, Lighthouse Construction Industry Charity CEO, said, "This portal is for everyone in our industry to use, especially those in the trades and agency workers who often have nowhere to turn for help in a crisis. It's been created by the industry, funded by the industry for all the workforce and their families working in our industry."
The portal has been developed as a website rather than an app to ensure anyone with a smartphone or computer can have full access to it.
The launch event was hosted by the Supply Chain Sustainability School. Over 550 registered and more than 280 people from companies across the sector attended the online launch of the portal.
Ian Heptonstall, director of the Supply Chain Sustainability School, added, "We are very pleased to be supporting this initiative and will actively promoting to our members helping them to provide this really important support."
Visit the portal at www.MakeItVisible.info