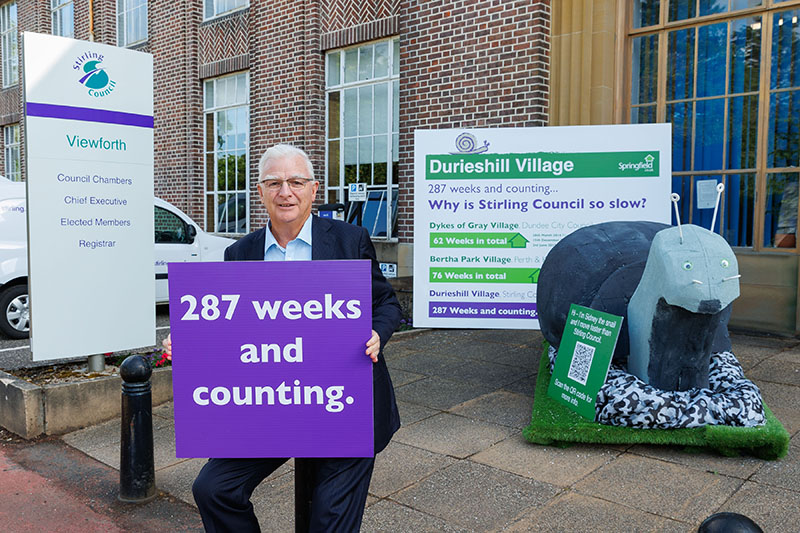 THE chairman of Springfield Properties has challenged Stirling Council on the 'considerable delays' to progress housing at Durieshill.
Sandy Adam attended a Stirling Council meeting today (June 29) in which he made a visual statement with an eight-foot figure of a snail to highlight the speed at which he believes the local authority is moving on the project.
Springfield revealed it has been 287 weeks since planning was submitted for the development which would see the creation of 3,000 homes in the area. Despite its significance to the community, the housebuilder claimed planning officials have failed to meet agreed timescales, most recently pushing back a milestone date that had been earmarked for the Section 75 Agreement to be tabled.
Sandy Adam said, "There is a well-documented housing crisis in Scotland, with communities across the country crying out for new private and affordable homes. Specifically in Stirling, the need for housing was identified in the local development plan 20 years ago.
"Springfield brought the solution to Stirling Council in 2016, and councillors instructed their officials to move forward with this development in 2019 when permission was granted. Since then, significant time and effort has been put into bringing this development to life, and yet five years later we have not been able to proceed.
"Durieshill will be a fantastic addition to Stirling, and we know it has the support of the council who voted to grant planning, and of the local community who have been calling for new homes for a long time."
If progressed, Springfield said Durieshill would bring 400 jobs to the area each year, including apprenticeship opportunities.
The most recent delays relate to the Section 75 Agreement, which was due to be discussed at today's council meeting, but was removed from the agenda. The provision requires Springfield to make a financial contribution to the council to be used for improving local infrastructure.
Sandy Adam added, "The benefits of Durieshill go beyond the provision of housing. It will create jobs and apprentice opportunities, it will see the creation of a new school, improvement in infrastructure, and inject money into the local economy."