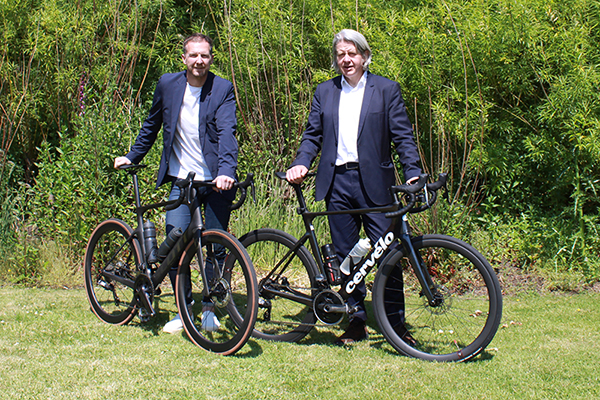 TO mark ten years of practice, the founders of Glasgow-based architecture studio HAUS Collective are aiming to raise £10,000 for homelessness charity, The Marie Trust, by taking on a sponsored 532-mile bike ride from Glasgow to Berlin.
The route will take HAUS directors Jim Webster and Murray Henderson through iconic landmarks in Glasgow, Newcastle, Amsterdam, Osnabruck, Hannover, Potsdam, and finally, Berlin, where the pair first hatched the plan to go into business together while in a bar in the city with the same name.
HAUS director Jim Webster explained, "Berlin isn't just a destination; it's where Murray and I decided to build a company together. We are very grateful for a decade of success and want to mark this milestone by doing something to support those who've had a much harder ride in life. We chose The Marie Trust, who work tirelessly to support people affected by homelessness in Glasgow and beyond."
Fellow director Murray Henderson added, "The significance of home is more than just a physical building. It's a safe haven, and for many people, it's a distant dream. We chose The Marie Trust because their mission to provide long-term solutions for homelessness aligns with our own commitment to good design that benefits communities and fosters sustainable growth. This cycling challenge means a lot to Jim and me as we are going back to where it all began and will give us time to reflect and consider the next ten years and our ambitious plans to grow beyond the UK."
HAUS has a portfolio of projects across the UK spanning residential/mixed-use, commercial and student housing. Supporters can follow the cycle challenge across HAUS social media platforms, and a JustGiving page has been set up to collect donations.
Frances McKinlay, chief officer of The Marie Trust, commented, "We are very grateful HAUS has chosen to raise funds for our charity. We provide a range of services, supporting those who are homeless or at-risk, with an emphasis on respect for each person's dignity and a commitment to sustainable solutions."
To find out more, visit: justgiving.com/page/haus10yearanniversarycharitycycletoberlin