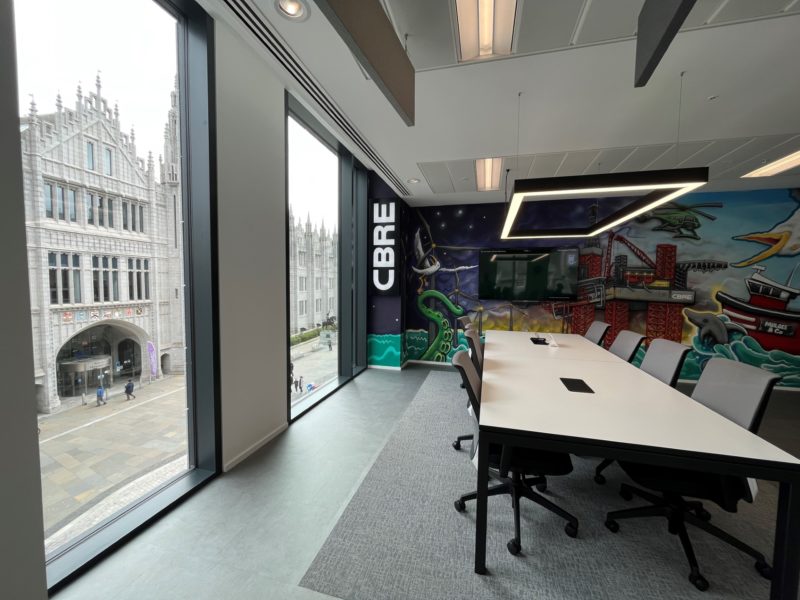 CBRE has taken full occupation of its new Aberdeen office in Marischal Square, creating a new hub for the firm in Scotland's north east.
The real estate advisor's Aberdeen team has relocated to a suite in 1MSq, moving from west end premises on Albyn Terrace. The office is home to the firm's 15 advisory team employees and also a drop in point for the 75-strong global workplace solutions team based throughout Aberdeen looking after clients' facilities.
The building comprises 122,000 sq ft over six floors with BREEAM and EPC ratings for Aberdeen with sustainability features and technology embedded throughout.
CBRE joins other businesses at the office, hotel, and restaurant complex including Royal Bank of Scotland, Chevron, KPMG, EY, Tenaris, Aberdeen Journals, North Sea Transition Authority, Maggie's Grill, Resident X, Mackie's 19.2, All Bar One, Costa and Residence Inn by Marriott.
Derren McRae, head of CBRE's Aberdeen office, said, "We are genuinely delighted to have moved into our new office in Marischal Square in the heart of Aberdeen city centre. The feedback from staff to date on their new surroundings has been excellent and it is a pleasure to work with the stunning granite backdrop of Marischal College on a daily basis."
A number of CBRE teams advised on the relocation and fit-out of the office including the office advisory and transactions and project management teams.
Roddy Morrison, director in the project management and building consultancy team, added, "The focus was to design an office that embraced how we work today. To meet our hybrid working model, we've implemented new technologies, video conferencing and a variety of working spaces so we're more efficient in how we occupy the office. In doing so we have made significant carbon and energy savings."
As part of the new design, CBRE commissioned local artist Craig Fisher from the Fisher Paint Co to design and paint a mural depicting the working history of Aberdeen, from a fishing town through to the oil and gas industry and then the transition to renewable energy.