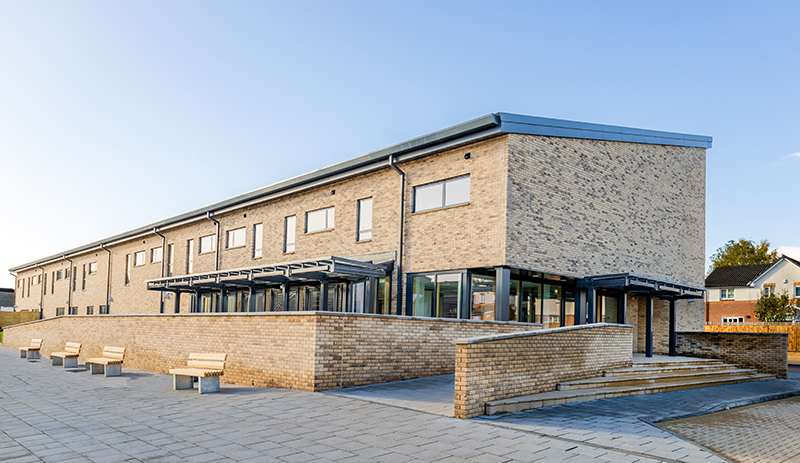 BLANTYRE Life has officially opened in an event held to recognise the contribution of the teams and partners involved in the facility which has been in operation since March.
South Lanarkshire Council said that the housing and care campus 'champions' the 'home for life' principle, with an emphasis on enabling more people to live as independently as possible within their own homes.
Built by Cruden Group, it combines a 20 bedded intermediate care facility and 20 new technology enabled properties, all equipped with telecare systems to support independent living.
A key innovation is the interactive technology enabled care (TEC) Zone designed in partnership with Glasgow Science Centre. The local authority said the TEC Zone demonstrates how technology can play a crucial role in supporting people to live safely, independently and happily at home.
Steven Simpson, MD of Cruden Group, said, "This has been a fantastic collaboration to deliver exceptional, technology-enabled homes that will allow older people to live more independently. The state-of-the-art homes and care campus have been built to the highest standards to be warm, comfortable and highly energy-efficient and right in the heart of the community."
Provost Margaret Cooper, who officially opened the facility, said, "It was fantastic to have the opportunity in person to express on behalf of the council our gratitude to all those staff who have worked so hard to deliver what is a truly impressive development.
"It was also quite inspiring to be both shown around the state-of-the-art facility and hear first-hand from staff providing care about how they are using their expertise to support people to live well, safely, and independently at home.
"The benefits of Blantyre Life will be felt across the whole of South Lanarkshire, and indeed I look forward to what is being accomplished here inspiring others across Scotland."
Director of health and social care for South Lanarkshire, Professor Soumen Sengupta, added, "My congratulations and appreciation to all of our staff and all of our partners for what has been accomplished here.
"These are starkly challenging times for health and social care, and for the communities we serve – Blantyre Life shows the impact that collaboration and innovation can make to delivering positive outcomes for local people."