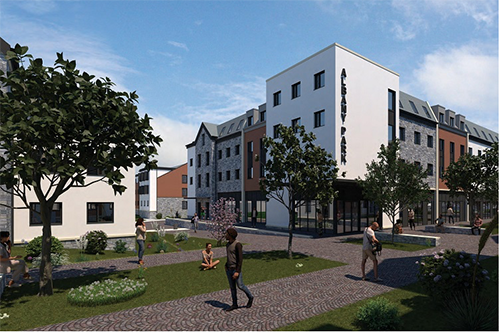 THE University of St Andrews is to submit new plans for the build of a multi-million pound student residence after the pandemic, global economic downturn, and price hike of building materials made original plans 'unfeasible'.
Revised designs show the number of student beds at the site would rise from 672 to 710. The accommodation build is earmarked for the site of Albany Park, which was an 'outdated' 1970s accommodation at East Sands which was demolished in 2020.
The proposed development is part of a series of significant investments designed to provide additional purpose-built accommodation for students over the next few years. The university said it's hoped this will also help relieve pressure on local housing stock in St Andrews and lessen demand on the private rented sector.
A new Planning Application Notice (PAN), which has been submitted to Fife Council, will be followed by public consultation events at the Byre Theatre on Wednesday June 7 and June 28, at which representatives of the project design team, the university, and CLV will outline the new plans for Albany Park, answer questions, and hear views from the public.
The University of St Andrews chief operating officer, Derek Watson, said, "The development at Albany Park is key to the university's strategy to provide more accommodation for our students and ease the pressure on housing stock in St Andrews. Despite recent volatility in the markets, particularly the construction industry, we have remained committed and optimistic this plan can become a reality.
"If approved, the new Albany Park will provide more than 700 high-quality student beds in an attractive landscaped environment which will improve amenity in the east of the town.
"The development has the potential to revitalise the eastern area of St Andrews and we are looking forward to putting our proposals to the local community and hearing their views."