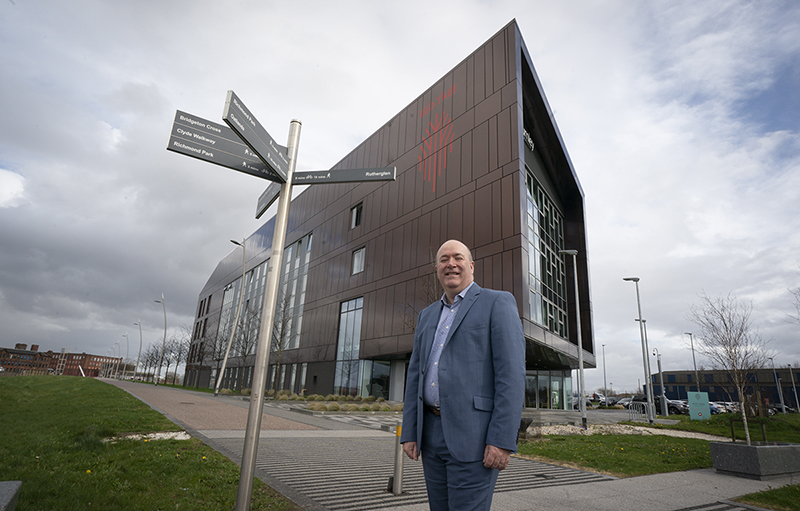 THE new chief executive of urban regeneration specialist Clyde Gateway is backing Scotland's construction industry to rise to the net zero challenge.
Martin McKay told Project Scotland that he's been encouraged by his dealings with contractors as the organisation presses ahead with its strategy to transform communities in Glasgow's east end and parts of South Lanarkshire.
Since being established in 2008, Clyde Gateway has helped bring about tangible change in Dalmarnock, Rutherglen, Shawfield and Bridgeton, with over £1.5 billion investment from the public and private sectors. A number of businesses have relocated to the area, creating thousands of jobs in the process. Some 3,500 new homes have been built – with many more in the pipeline – alongside a range of amenities, commercial premises, and greenspace.
A huge part of the plans has involved bringing derelict and vacant land back into productive use, while sustainability has been a key focus, with Clyde Gateway pioneering low carbon innovations such as district heating networks and displaying a commitment to green regeneration.
Martin McKay, who was previously executive director of regeneration, recently succeeded Ian Manson in the chief executive role following the latter's retirement. He told Project Scotland about the role the construction industry has played in what has been an incredible success story.
"When we started at Clyde Gateway, we talked about community benefits in construction and were applying that to our initial projects," Martin said. "A lot of the response from the construction sector was fairly muted at that time. It was a new thing, and they were trying to get their head around it. Fast forward a decade and the construction industry has really embraced that. They're bringing us innovation in terms of community benefit. You can see what they're doing in terms of their employability programmes as well."
Martin paid tribute to the way the industry has adapted to changes around CDM regulations, health and safety, and technology, emphasising his admiration for the way contractors are now managing sites and using electronic data to enhance projects. "I think the construction industry can meet the net zero challenge," he added. "It will have to meet it. You've probably got contractors in Scotland who are big enough and well developed enough to meet that challenge."
When Clyde Gateway was founded, it was one of six urban regeneration companies in Scotland. Today, it is the only one left in its original formation and has stayed close to its original vision and objectives despite facing a number of challenges including the global financial crisis, Covid, and living through what Martin described as the 'age of austerity'. The organisation has had to be flexible and tenacious to adapt to changing conditions and remain focused on delivery.
A major benefit Clyde Gateway had from the beginning was the investment in the area resulting from Glasgow's hosting of the Commonwealth Games in 2014. That event has proved to be a catalyst for regeneration, with the Athletes' Village and Emirates Arena among a raft of high-profile projects.
Community support has also been pivotal, with Martin stressing that it's not all about physical regeneration. Much work has gone into health, education, and wellbeing, while community engagement underpins everything that happens.
Also key to the success has been the decision Clyde Gateway made in its early years to target additional funding, including from Europe, which led to projects like the 90m-long Shawfield-Dalmarnock Smartbridge across the River Clyde.
Despite everything that has been achieved so far, Martin revealed there is plenty work still to do and is reluctant to say that expectations have been surpassed in case that suggests complacency.
"There's a number of vacant sites that we still have to work on," he revealed. "We still have to get the market engaged as well on a whole range of delivery elements. The things that probably changed for us post-2008 and the financial crash (are that) I felt that we probably would have done more to accelerate residential development and allow us to reinvest the returns into commercial development. That model changed so we had to be much more opportunistic in terms of the types of developments we could bring forward. We were able to address quite quickly things like vacant and derelict land, infrastructure constraints, and get on with the  things that you need in order to be able to turn developments around.
"On the non-physical side, we were able to really understand what the local community's requirements were. I think what's satisfying now is that we're starting to see a lot more in terms of large-scale residential developments. We've got the private sector buying in. We've been able to carry on with the transformation projects like Cuningar Loop and others."
Cuningar Loop is a 50-acre woodland park developed on a former landfill site in Rutherglen. Other greenspace projects have included Old Dalmarnock Road, which involved transforming vacant land into a community park featuring a path for walkers, a bike circuit for children, and areas to support biodiversity.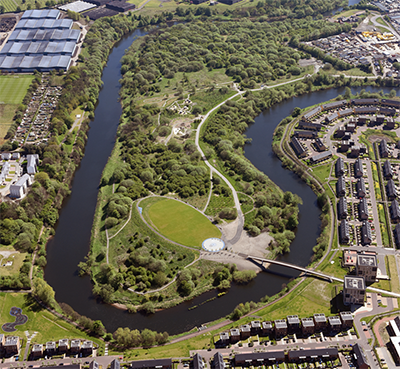 Martin describes Clyde Gateway as a pathfinder organisation and believes the regeneration model it has adopted could be applied to initiate change in other parts of Scotland too, particularly with regards to the way the public sector has worked collaboratively with local communities and the market.
With sustainability, an energy and carbon masterplan was brought forward early on and the company advocated for building energy performance around net zero on a number of initial projects. Martin revealed they probably didn't get traction at that stage due to the cost, complexity, and the fact that if you're developing in an underperforming area, adding another thing potentially becomes a deterrent. That, however, has all changed in recent years.
"The change in the last three/four years has been pretty remarkable in the way people are now looking at energy efficiency and net zero," Martin said. "We're ahead of the curve on a lot of that. One of the projects at Rutherglen Links that we delivered very early on was a fabric first approach. We develop on fabric first as well as district heating. My message is that I don't think there's a one-size-fits-all. If we're going to move forward and achieve the (environmental) targets, collectively, we need to use every tool at our disposal.
"District heating networks are like miniature regeneration projects. You have to think about them long-term, you have to understand the challenges that you're trying to address, and then you have to be able to implement and be flexible in how you do that. We're now at a point where we're effectively going to be owning and operating two district heating networks."
One of the first organisations to relocate to the Clyde Gateway area was Police Scotland. That move released a key Glasgow city centre site, which is now under development by Moda, highlighting that this type of regeneration can help to create opportunities elsewhere. Property specialist Speirs Gumley, creative brand agency MadeBrave, and publishing firm Peebles Media (publisher of Project Scotland) were amongst other companies to relocate to the east end, validating Clyde Gateway's decision to attract employers by providing buildings of quality.
"We've developed the Red Tree Business Suites brand as a business within a business," Martin added. "We had three Red Tree Business Suites. We're now operating two and we're about to bring a third one back on. What those Red Tree Business Suites were intended to do was provide a quality of space where people would want to come to, and also allow us to engage really well with that SME market. In all of the business centres we've operated, we've had success. Red Tree Magenta in particular is full – we've got a waiting list."
A recent addition to the area has been Topgolf, a high-tech golfing experience which has delivered a substantial number of local job opportunities. That's the type of investment Martin believes the east end is ideally located to attract due to its geographical advantages such as excellent public transport connections with vast areas of the country.
Looking ahead, he is excited by the challenge of overseeing the next stage of regeneration. Martin has been involved with Clyde Gateway since the outset. With a background in architecture, he was working with Scottish Enterprise and Glasgow and South Lanarkshire Councils developing the business case for Clyde Gateway before joining the organisation as a senior manager in 2009.
"I've worked on all the physical and capital developments," he said. "I also had responsibility for inward investment. It's a real pleasure for me to be in the role that I'm now in and hopefully support the next stage of the company's growth.
"We've got a pretty ambitious operating plan. We've got £60-70 million of investment planned. We want to carry on the work that we're doing in Shawfield and Dalmarnock in particular, and hopefully do as much as we can to keep the housing investment going. In Dalmarnock at the moment there's a huge transformation ongoing. Riverside Dalmarnock is testament to the work that Link Group and McTaggart have done, supported by Glasgow City Council. There's another phase coming to the Athletes' Village. Then you've got Springfield Homes on site developing for West of Scotland, Swan Group with PfP Capital, and Keepmoat Homes are building 48 houses that will be connected to our district heating system.  There's a wide range of housing coming though.
"We've also got EastWorks, which is our conversion of the former gasworks building. That will be the first commercial building connected to the network.
"In terms of driving things forward, first of all there's looking at trying to develop an area that has genuine net zero ambition. There's a lot of talk about retrofit-first and these types of things, but what does that mean for a community like Clyde Gateway and many others across Scotland? We still need to develop, we still need new build, we still need to be able to try and get that growth that the area's needed for so long, but also get it to a level where it's performing well and can continue to do so in the future.
"At Clyde Gateway we've got that USP of having district heating networks and being able to deliver buildings that are energy efficient as well. There's an opportunity for a range of companies, organisations, and others who want to be in a location where they can have that net zero ambition, be on the doorstep of greenspaces, really deliver a health and wellbeing agenda, and be well connected.
"With the housing market, again we just want to make sure that we're providing the right type of sites for residential development that can be market-facing and have a wide range of different tenures. We've got a lot of social housing in the area, which is great. We know our communities want that. They want affordable homes, and we can carry on delivering that. But there are opportunities for other tenures too."
Project Scotland's interview with Martin took place in the Olympia building adjacent to Bridgeton Cross. This was one of the first key projects and a great example of developing a building which sits at the heart of the community. As well as being the Clyde Gateway HQ, the building boasts a library on the ground floor and is the home of Boxing Scotland.
Martin explained a civic hub is being developed in Bridgeton, with organisations like STUC and Glasgow Women's Library moving into the district, backing up Clyde Gateway's commitment to local residents to not simply complete one project and then move on.
"The thing about regeneration is it's a long-term game," Martin said. "You need to try and get that long-term change and resilient change on the ground. Bridgeton is an example where we've been able to keep that investment going. For local people, they've been through big disruption… but we've kept dealing with vacant and derelict land. The opportunities we have to improve the physical environment, we take them. We're investing in things we know are important to people, like greenspaces. We're doing those things as well as continuing to look to bring employers into the area."
Martin is now keen to identify companies within Clyde Gateway that can work with the organisation on the green jobs agenda. One area of focus is advanced manufacturing and Clyde Gateway is investing in industrial space, including plans to develop out at Clyde Gateway East three buildings specifically targeted at high value manufacturing.
"We're looking to do likewise in Shawfield where we're going to deliver out a couple of buildings as part of our GRID (Green Regeneration Innovation District) campus," Martin added. "We're looking at providing good quality industrial spaces that are energy efficient as well.
"We still want some of the big corporate occupiers as well. We'd like to see that sort of growth, bring in a big employer that's able to commit to being here for the long-term. We're continually working on that and I'm sure there will be opportunities to come."