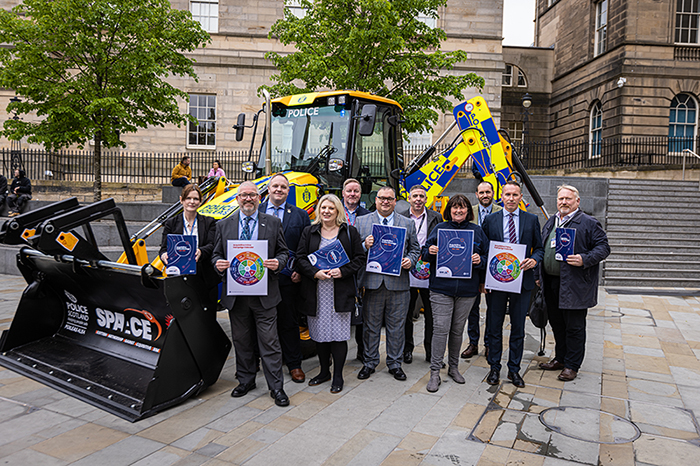 A JCB 3CX will travel across Scotland over the next 12 months to raise awareness of plant and fuel theft.
The move has been instigated after the Scottish Plant Owners Association (SPOA) teamed up with the Scottish Partnership Against Acquisitive Crime (SPAACE) to help tackle the problem.
SPOA president Callum Mackintosh launched the first crime prevention campaign from SPAACE in Edinburgh in a Police Scotland liveried JCB 3CX. Partners of SPAACE, including Police Scotland, also attended the launch at St James Quarter.
The machine, loaned by SPOA member JCB and its Scottish dealer Scot JCB, will visit numerous events taking place across Scotland including ScotPlant 2024, Drymen Show, the Royal Highland Show, Black Isle Show, Orkney County Show and Blair Horse Trials. Staffed by Police Scotland, plant owners are encouraged to come along and get advice on plant and fuel theft prevention.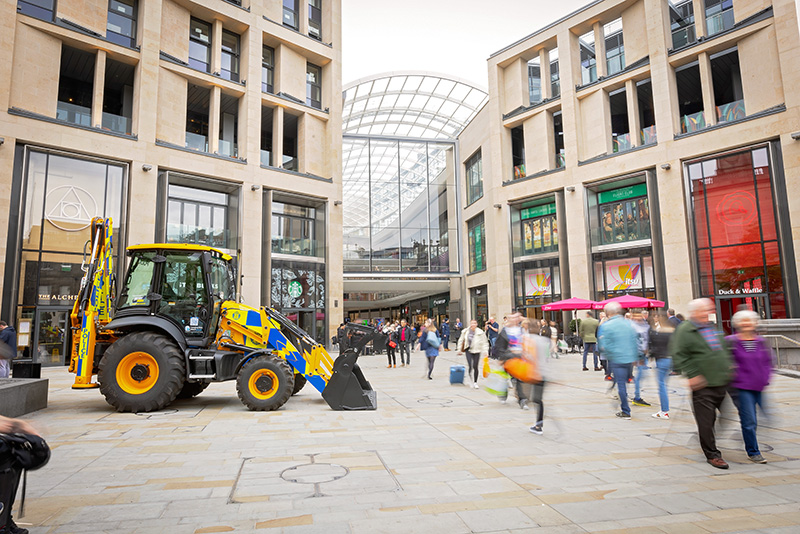 Callum Mackintosh explained, "The SPOA is extremely proud to represent the plant and construction industry in SPAACE. The theft of plant and fuel is an increasing problem for our members and unfortunately it often goes unreported. It is estimated that this theft totals £800 million worth of losses to the industry each year and we need to play our part in tackling this crime.
"By partnering on this strategy and taking the JCB on the road across Scotland, we hope to draw attention to the issue and highlight the importance of reporting theft. We know that there are serious organised crime networks behind plant theft – this is not an opportunistic crime. If the theft goes unreported it makes it very difficult for police to catch the criminals or even to spot trends and alert plant owners in certain areas to be vigilant, as we know that these criminal gangs tend to move from one area of Scotland to another.
"A special thank you to JCB and Scot JCB for supporting this initiative which demonstrates a shared vision to prevent plant theft which can be devastating for SPOA members. I hope that this collaboration will continue with other projects."
SPAACE is a multi-agency partnership involving organisations collectively working to tackle acquisitive crime, which is defined as high volume crime often targeting the most vulnerable. The SPOA, along with the other partners in SPAACE – including Crimestoppers, HM Revenue & Customs, Neighbourhood Watch Scotland, Police Crime Prevention Initiatives (PCPI), Police Scotland, Retailers Against Crime, SCOTTS Trading Standards, Scottish Government, Take Five To Stop Fraud, Trading Standards Scotland and Secured by Design – brings together a range of expertise with the joint aim of reducing the risks communities face from the crime as well as the associated financial loss.
Police Scotland's detective superintendent Andrew Patrick, acquisitive crime lead, commented, "We know that acquisitive crime has a significant impact on victims, whether it's through the invasive nature of the offence, such as housebreaking, or the financial impact caused by the theft of equipment like plant machinery. Often there is an emotional cost too when personal items that cannot be replaced are stolen.
"SPAACE aims to empower the public and improve Scotland's sense of community wellbeing by raising awareness of the work being done to tackle acquisitive crime, while providing them with all the necessary information they need to help prevent being targeted by criminals involved in acquisitive crime.
"We know that reducing acquisitive crime and providing reassurance to the public is not something Police Scotland can do in isolation and I am grateful to the Scottish Plant Owners Association for joining forces to tackle the acquisitive crime of plant and fuel theft and we look forward to a successful crime prevention campaign."
The SPOA added that plant owners are reminded to sign up to Construction Watch Scotland, which will:
Alert plant owners to local crimes and emerging trends
Offer prevention tactics to protect sites large and small
Offer advice on how to secure tools, equipment and plant machinery
Provide guidance on how to reduce fuel theft opportunities
Highlight approved 'Secured by Design' products
Share best practice
The SPOA also offers advice on theft on its website which can be viewed at https://www.spoa.org.uk/theft.