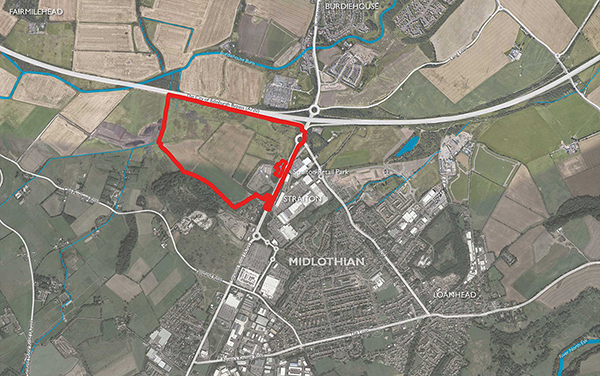 PROPOSALS for a new residential-led development at Straiton North in Midlothian have been unveiled.
Located on the opposite side of Straiton Road from the retail park, Straiton Estates Ltd plans to oversee the delivery of a mix of uses as part of a new 20-minute neighbourhood if approved.
In addition to 'much-needed' new homes, further uses include the opportunity for employment, commercial and community facilities, as well as other amenities.
20-minute neighbourhoods are considered a major driver in the target to achieve net zero, designed to enable residents to meet their daily needs locally through access to safe walking and cycling routes, or by public transport.
It is anticipated that the proposed A701 relief road will form the northern boundary of the development.
The land has been allocated for development for over five years and forms part of Midlothian Council's current Local Development Plan (LDP) strategy where a mix of uses, including residential and commercial, are supported as part of a new 'gateway' to Midlothian.
The proposals include a mixed-use neighbourhood centre, including potential land for a new health centre. Open space and play areas will be located within walking distance of all new homes, with pedestrian green links between open spaces and the homes.
Also included within the proposals will be a 2.4-hectare employment zone within 'easy reach' of transport network and active travel routes.
With a proposal of application notice (PAN) now submitted to the council, formally notifying it of its intent to submit a planning application following a minimum period of 12-weeks of consultation, two community consultation events will be held. The first of these will take place on Tuesday 27th June between 4pm and 7.30pm at Loanhead Leisure Centre.
Colin Mclachlan, director of Straiton Estates Ltd, said, "We are delighted to be bringing forward these exciting proposals for a new 20-minute neighbourhood that will deliver a mix of residential, commercial and community uses. Our scheme offers a unique opportunity to support the council's aspirations to develop Straiton into a people-centred place though creating a new 20-minute neighbourhood, successfully integrated into the area and forming a new mixed-use gateway to Midlothian.
"We look forward to engaging with the community on our proposals for the site and to respond to feedback received."