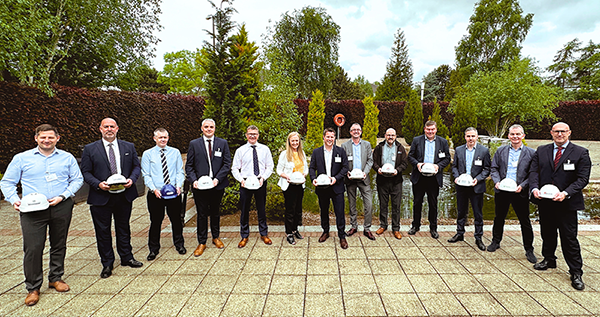 BALFOUR Beatty, BAM Construction, Kier, Morgan Sindall and Morrison Construction have been appointed as the Tier 1A construction partners for hub South West Scotland (hub SW).
The announcement follows a recent 'refresh' process. The move is part of a commitment by hub SW to review its construction partnerships every three years.
Ashleigh (Scotland) Ltd, CCG (Scotland) Ltd, Cruden Building Scotland, Linear Design & Construct, McTaggart Construction, Ogilvie Group and Robertson Group have also been appointed as Tier 1B construction partners.
Michael Ross, chief executive of hub South West, said, "We are delighted to announce our refreshed construction partner line up with experienced partners who all share our dedication to serving our public sector participants and local communities with a firm focus on ensuring our projects recirculate money locally, create local jobs and enable local apprenticeship and education opportunities.
"These relationships strengthen our firm focus on achieving high quality, sustainable projects that demonstrate value for money whilst investing in a continuous improvement model to ensure the best possible output for our participants.
"Our participants are shareholders invested in hub SW and hub SW as a company was set up over a decade ago by the Scottish Government's Scottish Futures Trust to ensure more effective public sector procurement with a local economic development focus – a partnership model that is needed now more than ever to help our public sector participants achieve value for money in the current economic landscape, assist in how they are achieving their sustainability agendas, and provide an established tried and tested platform to answer their Community Wealth Building agendas.
"This refresh process has enabled us to ensure the culture, ability and experience of our partners align with what we know our participant base require.
"After a thorough tender process our contractor partners were selected due to their track record of delivering high quality social infrastructure projects, expertise in cost management, ability to deliver our participants net zero ambitions and alignment to our unique hub SW Community Wealth Building model that focuses on skills, economic development, and community investment.
"Our Tier 1 partners will play a key role in helping us to deliver maximum community impact through our projects by supporting our existing partnerships with local education establishments as to address our skills agenda and helping to run our engagement 'Build' programmes to help develop local businesses win work."
Dr Willie Mackie, chair of hub South West, added, "It is fantastic to see such a robust and effective line up of construction partners on board. Our business is much more than bricks and mortar. We are committed to adding economic value, enhancing people's lives within our communities, and using our networks and supply chain to provide opportunities for local businesses to participate in our delivery programme. The hub model remains an ideal strategic fit within public sector infrastructure, and we look forward to continuing to serve our participant base."
To date hub SW has delivered over 90 projects to the value of £754 million across the education, social housing, healthcare, leisure, office and economic regeneration sectors. A further £450 million of projects are currently in the construction and development stages along with a 'healthy' pipeline of projects.