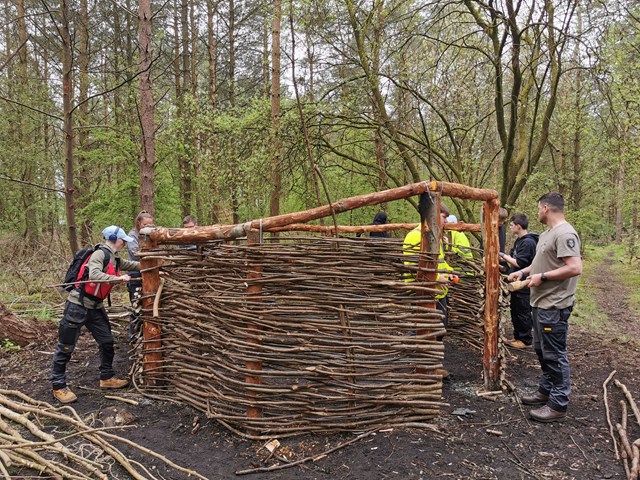 LOCAL trainees have started to rebuild the traditional roundhouse on one of the islands at Lochore Meadows Country Park.
The building on Tod Island, which was used by Outdoor Education Fife for learning activities, was destroyed by fire in July 2022.
Fife Council pre-employment and apprenticeships teams vowed to turn it into a skills development employability project and involve local unemployed young people to restore it to its former glory.
The partnership project led by Fife Council Pre-Employment Programme and supported by Fife Council Outdoor Education and Rural Skills Scotland is described as contributing to the sustainable development of Lochore Meadows to benefit future generations.
Lynne Dair, Fife Council employability project co-ordinator, said, "When I heard that the round house on the island had been destroyed I realised what a loss it was for the local community and set about investigating how Fife Council Employability Team could help. Working alongside partners to initiate a plan to involve local young people in the restoration of a facility that would benefit future generations seemed like a great fit."
The bulk of the material needed for the project is being sourced on site within the park and surrounding area.
A group of local young people taking part in Fife Council's Access to Industry Meta Skills training programme have been working alongside partners in Rural Skills Scotland and Fife Coast and Countryside Trust to ensure that material harvesting and preparation was done in a way that has a positive impact on the environment.
The trainees have been using traditional methods and hand tools, and have transported the materials in boat loads to the island.
Councillor Altany Craik, Fife Council's finance, economy and strategic planning spokesperson, added, "The roundhouse was integral to our outdoor learning activities and has been used by thousands of young people over the years, so it's great to see the rebuild starting in earnest. This has been a brilliant example of partnership working in action with Fife Council's Pre-Employment Programme and Outdoor Education Teams as well as the management team at the park."
Darren Roe, Rural Skills Scotland supervisor, commented, "I am really impressed by the group of young people on the project they have really gelled together and got to grips with some very physical work. It's great to see them now as working as a team, supporting each other and playing to their strengths."