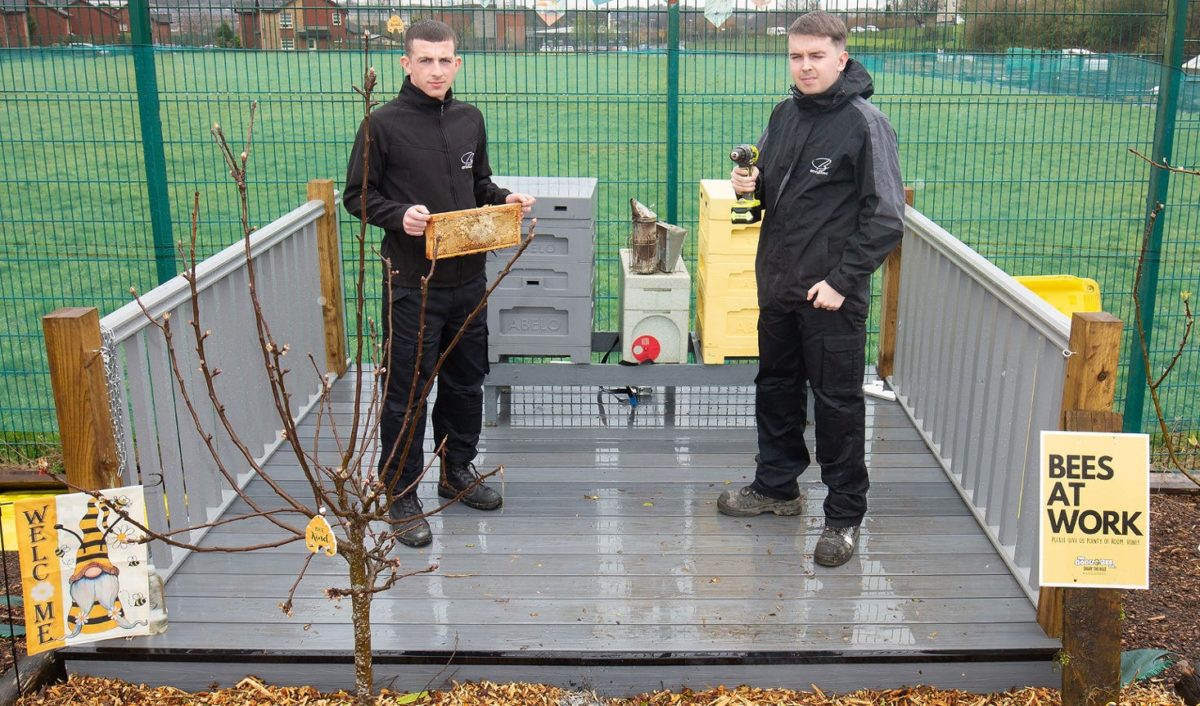 CITY Building apprentices have led a project to complete the refurbishment of Growchapel Community Allotment Garden in Drumchapel, Glasgow.
With the support of volunteers from ENABLE Scotland, The Fortune Works and Growchapel plot holders, the team have breathed new life into the community garden patch.
Two third-year apprentice joiners from City Building, Junior Garscadden and Alexander Gallie, worked to construct a decking platform and safety rail within the allotment, facilitating two new beehives within the garden space.
Growchapel is a community-led project that aims to use the therapeutic powers of gardening to engage with people in the local area struggling with mental health issues, addiction and isolation.
The beehives will help to increase biodiversity, supporting plants and vegetation to thrive via and helping to counteract the declining bee population.
The apprentices designed and constructed a custom timber frame, complete with composite deck boards and staining to protect the structure against the elements.
Michael Mullen, chairperson of Growchapel Community Allotment Garden, said, "Growchapel is a welcoming, inclusive site for the people of Drumchapel to enjoy, relax and grow within. It is a kind space which supports wellbeing for ourselves, our families and the environment. Thank you to City Building for its kind work volunteering to create our beehive area, and to all the volunteers from ENABLE Scotland, The Fortune Works and the allotment holders that have worked enhance this area for Drumchapel's local community."
Alan Burns, executive director, City Building, added, "Projects like Growchapel are the cornerstones of our society, bringing us all together under a common cause. It has been a pleasure to contribute to this project, helping to enhance the bustling Drumchapel community that we work within.
"The City Building apprentices contributing to this project, Junior and Alexander, have done a stellar job in fitting the beehive platform, from scoping out the area available, to designing and constructing the structure.  Well done to both and the volunteers from ENABLE Scotland, The Fortune Works and Growchapel plot holders for their hard work on this project."