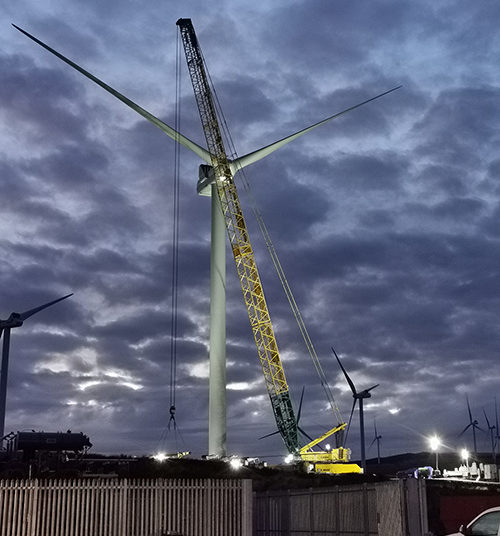 WORK is complete on the delivery of phase two of the Sandy Knowe Wind Farm in Dumfries, after Jones Bros Civil Engineering UK stepped in to complete works.
The Scottish branch of the Denbighshire-headquartered firm began works on the half-built site after the previously appointed contractor went into administration.
Work included completing ten reinforced concrete turbine foundations, crane handstands, and laydown areas, as well as excavating and backfilling for cabling works, and the construction of a new bridge across the Polneul Burn.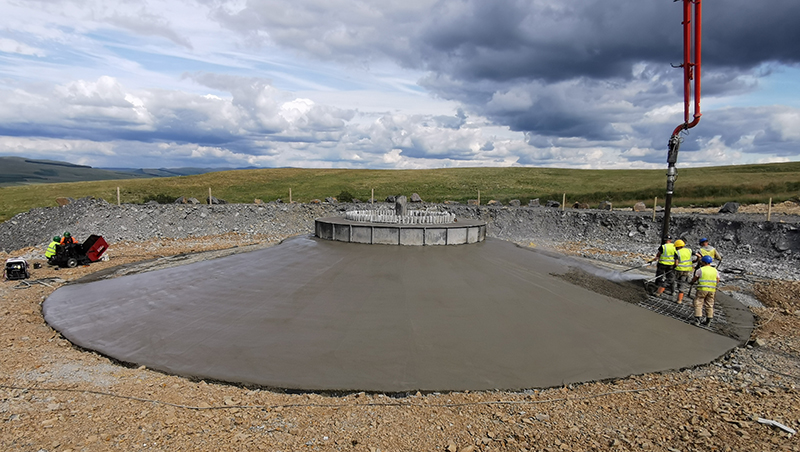 The company's Bellshill-based team of approximately 40 people – alongside local plant operators – also capped access tracks, carried out substation snagging works, and completed landscaping and reinstatement of both phases one and two.
Jones Bros site agent Flora McNeil said, "It has been wonderful to step in and deliver phase two of the scheme on behalf of ERG. This was our 19th wind farm in Scotland, and we've built a strong reputation in this sector, courtesy of our highly skilled team.
"We started onsite in May 2022 and the completion deadline was pencilled in for before the end of the year, so we had to hit the ground running. Some of the materials had already been procured by the client and previous contractor. Establishing what was onsite, due for delivery, and still required, as well as making sure that materials weren't damaged or missing, was a challenge. 
"The installation of the bridge was critical for achieving the energisation date for the phase one turbines. We had very limited time to install it and get the cables across the Polneul Burn. The design was unusual and, as a result, it created additional work at height and lifting issues that we had to manage effectively to ensure the safety of the team." 
Flora and her team were able to call on the expertise of Michaela Baldock, who was appointed by Jones Bros as a site engineer. Flora continued, "Being able to lean on Michaela was extremely helpful as she already had relationships with the client, designers, and turbine supplier after joining from the previous contractor.
"Michaela also had the background knowledge of where and why there had been a deviation from the design, as well as any problems that had been identified. She had access to the existing quality documents, the requests for information (RFI) and the non-conformation reports (NCR) that had been raised to date." 
ERG's UK project manager, Pietro Mosca, added, "I was really impressed by Jones Bros' reactiveness and ability to pick up a project which was already in construction with several difficulties and a strict timeline. Their understanding of the situation and the project's needs played a key role in delivering the work in good time and to the required quality. This was thanks to a goal-oriented approach in a collaborative and proactive environment established onsite by the whole team."