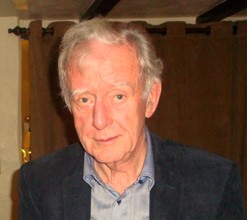 THE Door & Hardware Federation (DHF) has announced the death of director and former chairman David Whitworth, who has passed away aged 91.
David started his career in architectural ironmongery when, in 1955, he joined his family's business, Laidlaw & Thomson. Three years later he became the MD and presided over a period of expansion which saw the business become one of the leading architectural ironmongers in the UK.
Laidlaw & Thomson was a founder member of GAI (Guild of Architectural Ironmongers) in 1961 and David sat on the executive committee from its formation. He was chairman of the GAI between 1968-1970 and again in 1978-1979, as well as being president of ARGE, an association representing lock and hardware manufacturers throughout Europe.
David was also a member of the ABHM (Association of Building Hardware Manufacturers) management committee and was elected chairman in 2001. In 2004, he was a key player in ABHM's merger with DSMA (the Door & Shutter Manufacturers' Association) to form the DHF. In 2007, he became chairman of DHF and, for a number of years, also chaired the newly formed DHF building hardware group.
Even after David stepped away from his chairmanship role at DHF, he continued to take a keen interest in the growth, development, and on-going success of the federation, and in the industry as a whole.
Bob Perry, DHF CEO, said, "David's knowledge and expertise of architectural ironmongery and building hardware was absolutely unparalleled. We owe a tremendous debt of gratitude to him for his extraordinary and outstanding commitment and contribution to DHF and to the wider building hardware industry. We all join in expressing our condolences to David's family and friends at this very sad time."