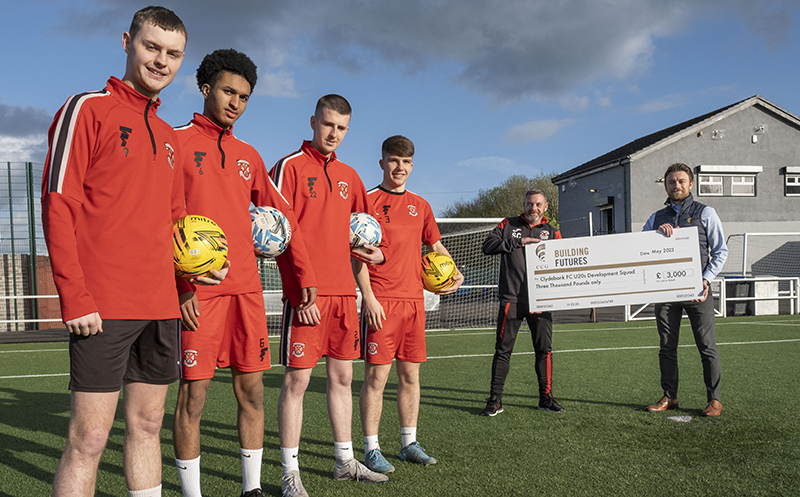 CCG (Scotland) has revealed the business donated over £400,000 to community-based projects across Scotland in the 2022/23 financial year.
The construction and manufacturing business was operational in 13 local authorities during the period and at one stage had over 3,000 mixed-tenure homes on-site.
For every project worked on, CCG undertakes a range of community initiatives. Jobs, access to the firm's trade apprenticeship programmes, work placements, engagement with schools, and financial donations are among the measures delivered at a localised level.
A recent recipient of a £3,000 donation was Clydebank FC U20's development squad in West Dunbartonshire. Delivered as a community benefit from the redevelopment of the former St Andrew's School site in Clydebank, which delivered 126 new affordable homes for West Dunbartonshire Council, the donation supported the club with its weekly costs and will help advance fitness and performance data analysis.
The donation forms part of a wider community benefit programme in Clydebank and across the region conceived as a result of various housing projects undertaken on behalf of the council and housing associations over the last four years.
CCG group HR manager Lynn Stodart said, "To have donated £400,000 over a 12-month period is a wonderful achievement for our business. Housing-led regeneration is a catalyst for positive change in our communities but the importance of social value and the delivery of initiatives that we as a business deliver for most of our projects cannot be understated.
"Be it job creation or financial donations, CCG will work collaboratively with our clients to identify local projects and we are delighted to see the difference we have made in communities like Clydebank and many more across the breadth of the country."