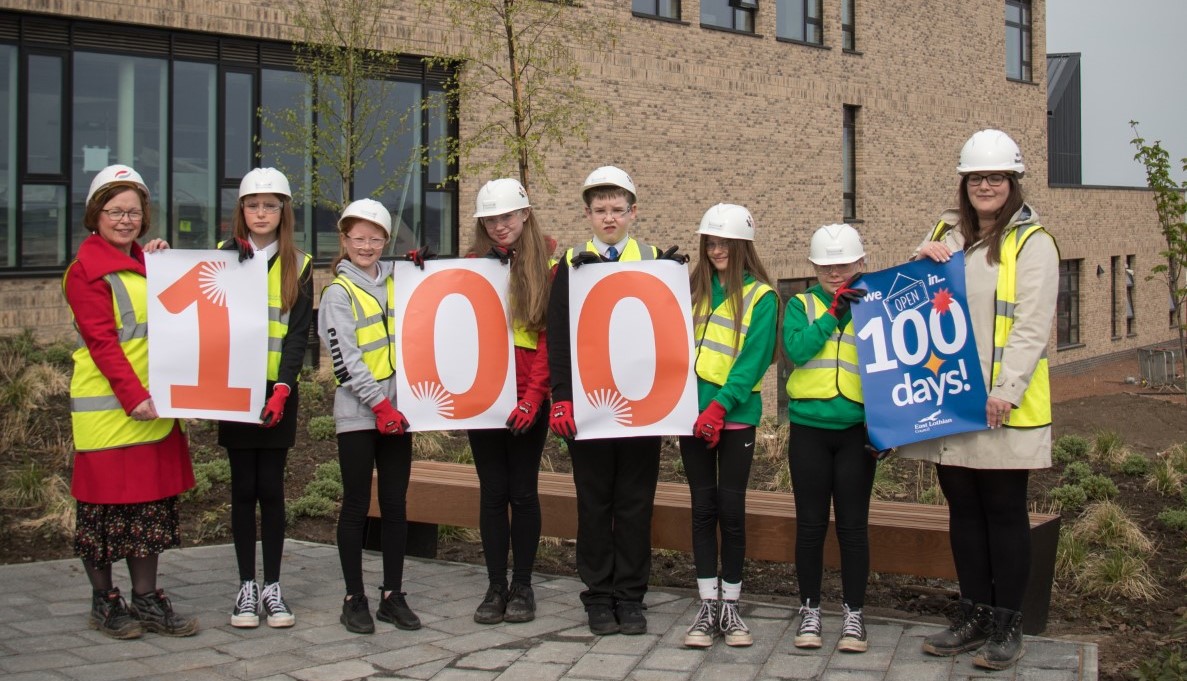 ONLY 100 days remain until the Rosehill High School opens as part of the £47.2 million Wallyford Secondary Learning Campus project.
Morrison Construction is leading the build of the overall project, which is being delivered by Hub South East, with Rosehill High School marking the first part of the campus to open once it is handed over in June ahead of the new academic year starting in August.
Cabinet member for education and children's and family services at East Lothian Council, councillor Fiona Dugdale, recently visited the school to mark the start of the countdown and meet with staff and some of the young people who will be the school's first learners.
Councillor Dugdale said, "It's great to be alongside the school's first learners and its new staff team to mark this exciting occasion. The progress on site has been incredible and I can see a marked difference since I last visited a few months ago.
"With the internal and external scaffolding down it's a great opportunity to appreciate the size and scale of the building and the way that the light-filled spaces flow. The most important aspect is the opportunities that our investment in this campus will offer our learners and our community. The new academic year will be a momentous one for everyone connected with Wallyford."
Rosehill High has been built to accommodate a growing secondary school roll arising from residential development in the area. Alongside modern teaching and social spaces, the school includes The Brae, a specialist provision for secondary age young people with severe and complex needs who live across the county and a dedicated science, technology, engineering, arts, and maths (STEAM) centre. The wider Wallyford Learning Campus includes a library, community centre and spaces for health and wellbeing.
Almost 300 S1-S3 pupils will join the school from August with a projected future pupil roll of 1000+ across S1-S6.
Rosehill High headteacher Gail Preston added, "This a significant milestone and I'm delighted to be reaching it in the company of our extended leadership team, as well as some of our incoming young people. Staff will be working hard throughout this term to support transition and curriculum development, with a significant focus on their own professional learning to ensure highest quality learning experiences for our community."