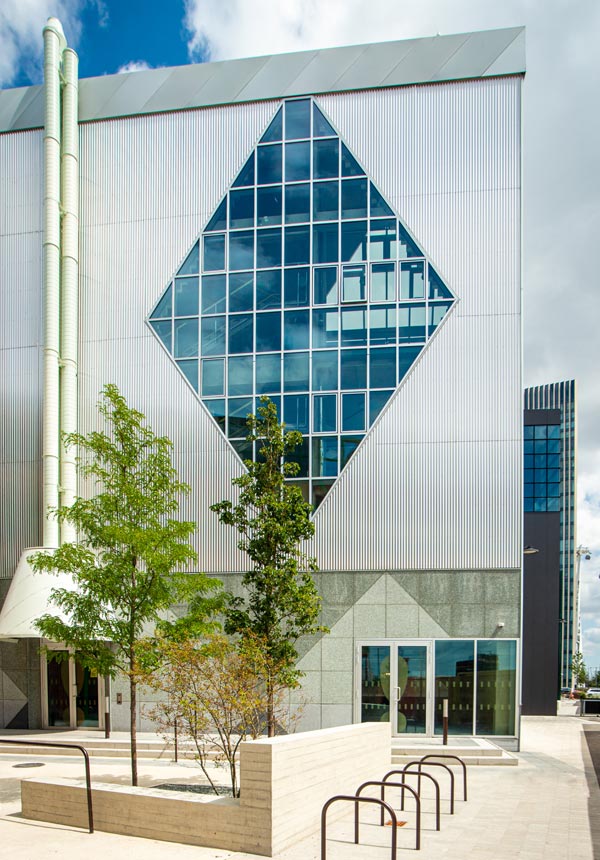 By Anthony Millington, creative director at Amron Architectural
ALONG with the roof, the façade is one of the most important elements of the building envelope. Not only does it act as the primary aesthetic, but it is also the first barrier against weathering and corrosion. It also protects the occupants and is a popular choice for adding a valuable characteristic to the overall building.
Traditionally used in agriculture for farm buildings and known as 'crinkly tin'– metal profiled sheet is now very much considered a feature for commercial buildings for both interiors and exteriors. It is ideal for challenging projects due to its decorative virtues and functionality and can be produced in almost any metal and every finish imaginable to allow architects and designers the freedom they need to create.   
Using innovative technology and flexible processes on their widest range of profiled sheet metal, the wellTEC range which is exclusively distributed by creative metal specialists, Amron Architectural consists of a variety of different profiles such as sinusoidal, trapezoidal, zigzag and special profiles. They are all suitable for bringing bespoke creativity to life for not just façade applications but also external and internal cladding, ceilings, roofs, staircases, and balustrades. Moreover, wellTEC profiles can be produced from coils up to a width of 2,000mm and a thickness of up to 3mm.
These processes also mean that the metal can be pre-aged, coated to preserve the original shine or completely transformed by powder coating to an endless number of colours. So, not only does it allow a decorative coating, but it can also imitate wood, stone, and brick. This method of finishing then allows you to transform even the very old buildings into replenished new looking ones without having to exceed funds.
Product in practice
Set on the Greenwich Peninsula, The Design District is a collection of 16 stunning creative buildings designed by eight different architects. The £56 million development contains multi-workspaces for up to 1,800 designers and aims to build a community of artists who can connect with each other.
Sitting close to the O2 arena and tube station, the new Design District is a prime spot for artists alike to visit the colourful and vibrant environment to get their creative juices flowing. With workshops and creative workspaces to hire, the facility includes a canteen made up of independent stalls that serve global fare to tenants, visitors, and local residents.
With the masterplan for Peninsula Square requiring certain views of the O2 Dome to be preserved, the architects had to ensure the buildings were no higher than four-storeys tall. The development was overseen by Knight Dragon, who gave each architect two plots to play with, of similar sizes and briefs. They were asked to draw up designs without having any insight into what their project neighbours were creating.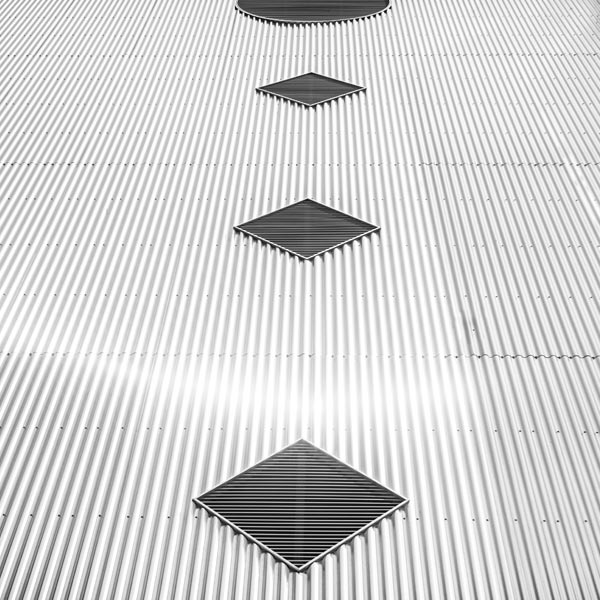 Each plot was different, with David Kohn Architects designing a 'miniature glowing palazzi' inspired by Venice and American roadside structures.
Mole Architects paid homage to the site's heritage and gas working history with one of their buildings clad in rusted CorTen reminiscent of an old gas holder, while the other has a dichroic skin that changes colour from green to blue when the light hits it.
Working alongside the contractor, The Ardmore Group, and 6a architects, we were asked to supply a suitable and hardwearing profiled metal for the external skin on the A2 and B2 buildings. Our wellTEC profiled sheet finished in light stain aluminium was chosen due to its inherent strength in the wave profile, which would add texture to the outside of the building. The cladding was installed around a large central diamond window, the idea was to create a building that was inspired by the sculptural graphics of Richard Artswager.
The metal theme is carried throughout A2 and B2 buildings and includes a playful catalogue of surfaces, some raw and rough and others smooth. With exaggerated metal gutters, drainpipes, air ducts, and vents, a metal industrial look was at the forefront of this design.
Feeling inspired?
Design inspiration can come from everywhere and anywhere, so a clearly defined image of what you are looking to achieve is a good place to start before adopting the look. Metal does not just need to be used in its raw form; the ideas are endless!
If you want to bring your bespoke creativity to life in the design of your facades, roofs and walls without having to renounce high dimensional accuracy and product quality, then profiled sheets are the design solution for you.