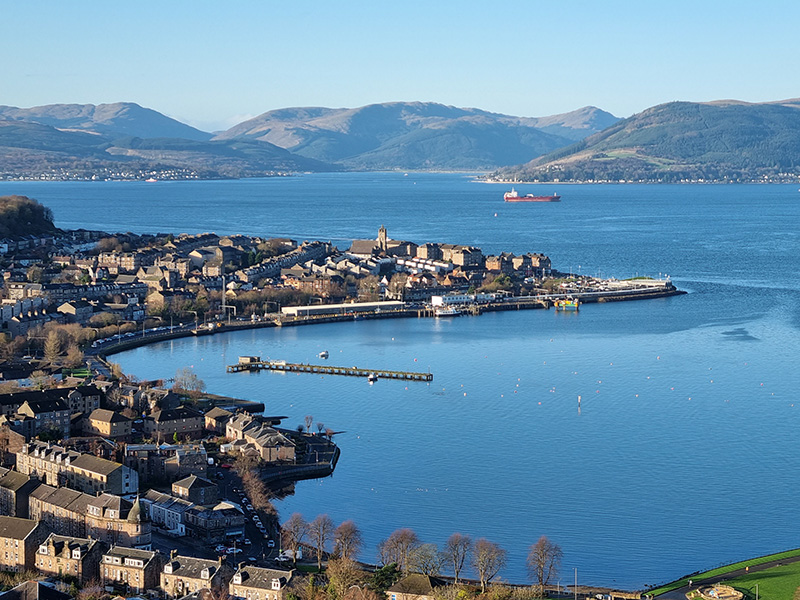 Ramsay Muirhead, director of ports & infrastructure at CMAL, discusses the importance of innovations to tackling rising sea levels in Scotland
ACCORDING to Marine Scotland Information experts, global sea levels are rising faster than ever as a direct result of climate change, and Scotland is far from immune to feeling the effects. Alarmingly for our coastal communities, research estimates that sea levels are to rise by around 14mm-18mm each decade.
Scotland is very much a maritime nation. Our seas are nearly six times larger than our land area, or some 462,300 square km. It's estimated Scotland has more than 900 islands, of which only 118 are inhabited. The deepest point in Scottish waters is the Rockall Trough, with a depth of around 2,500m – that's almost twice the height of Ben Nevis.
CMAL owns 26 of Scotland's 53 Clyde & Hebridean ferry ports, as well as 37 ferries for these vital lifeline routes to the islands and peninsulas of the west and north of Scotland. We are the Statutory Harbour Authority at 16 of our ports and harbours in the Firth of Clyde and around the Hebrides, and own or lease properties and port infrastructure at the 10 other locations.  So, it's fair to say that rising sea levels are a significant challenge for us.
But within that remit – of providing efficient, cost-effective, and safe ferries, harbours and port infrastructure for operators, communities, and users in and around Scotland – we are leading national efforts to 'future-proof' all the vital points of entry we operate. This includes not only our own ports, but also assisting and guiding the owners of other Scottish ports and harbours to be fully prepared for ever changing climatic events.
This work will take years because of the complex engineering and logistical challenges we face. But we must get to grips with it to ensure the longevity and resilience of our ports, and to continue to provide safe passage and a range of harbour services to the large variety of vessels that use them. Quite simply, future-proofing is one of the most important aspects of our ambitious port improvement and redevelopment plans.
We're tackling this work in several ways. First up is installing weather and tide monitoring equipment, as well as webcams across our network of ports. These provide live data for all port users, from ferry operators to private vessel owners, fishermen to tourists. It also allows us to record information to help inform our future designs.  Running concurrently – on a far larger and longer-term scale – we have been ensuring that all the new port facilities we're planning fully consider and allow for the expected changes to climatic conditions.
Already, 17 of our ports across the CMAL network have weather and tide monitoring equipment. Webcams have been installed at 10 locations, which allow all port users access to live visuals relayed on our website, showing real-time weather conditions and tide levels. Being able to see their destination port live allows vessel skippers and masters to make vastly more accurate decisions, rather than simply relying on predictions and forecasts. The roll-out of weather, tide and webcam equipment at relevant CMAL ports will be completed in the next couple of years, and we are already working with other port owners across the west coast of Scotland to assist them in installing similar systems.
Gourock Ferry Terminal redevelopment
This CMAL-led project will upgrade and modernise the harbour infrastructure at Gourock, and future-proofing is very much part of the programme. We are currently at the design stage, but we are already recognising the different challenges of port design when taking climate change into account, compared with when the facility was first constructed.
For instance, we are having to account for a predicted sea level rise over the 60-year design life of circa 600mm, when planning the level of the new pier, quays, and landside infrastructure. This becomes particularly challenging when working with existing infrastructure and buildings on and adjacent to our site.
Other environmental considerations of the redevelopment include the provision of shore power to charge vessels at the berths, electric vehicle charging points, electric vehicle car club parking spaces and space for electric bicycle rentals. Many of the successful design elements employed at Gourock will be replicated across other major port development projects in our network.
Additionally, we are also future- proofing our ports and harbours to accommodate a range of vessel sizes, by exploring options for deepening ports, lengthening piers, and widening linkspans to ensure there are fewer network constraints going forward, even with the most extreme sea level predictions considered.
The local impact of global warming may seem like small increments in rising Scottish sea levels, but as this becomes a bigger problem along coastlines worldwide, CMAL will remain committed to designing and building greener, more sustainable, and safer ferry infrastructure to ensure the longevity of all ports and vessels under our remit.