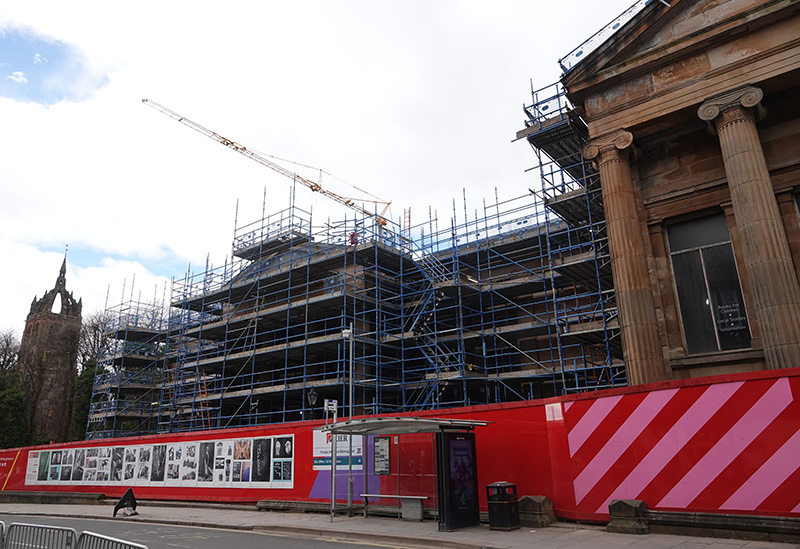 JR Scaffold Services has erected a scaffold structure around Paisley Museum as the A-listed building undergoes a major renovation project.
The museum is being transformed as part of Renfrewshire Council's £100 million investment in local cultural venues. The venue is expected to receive a complete renovation including the Grade A observatory dome to the rear, which was Scotland's first when it was created in 1883.
The works also include new roofs to all areas, stone works/replacement to the façade, new glazing to skylights, and a steel frame extension.
JR Scaffold Services, part of Paisley-headquartered The JR Group, revealed it has erected many different types of scaffold for this reimagining project to meet the various requirements of the job.
There are many edge protection scaffolds to the perimeter of all roofs; independent wall scaffolds to the external façade; internal birdcage scaffolds; cantilever scaffolds, and bespoke scaffolds designed by an engineer to allow it to hold extremely heavy loads and also create lifting points for heavy stone replacement.
Working on behalf of main contractor Kier Construction, the scaffold project started in July 2021 and the kits will continue to be present onsite until summer 2024.
The Paisley Free Public Library and Museum opened to the public in 1871, funded by Sir Peter Coats and designed by architect John Honeyman.
John Jack, contract manager for JR Scaffold Services, who has been managing the project since it first began in 2021, said, "We are incredibly proud to be playing our part in the restoration of Paisley Museum – it is an incredibly complex job with many many parts to it, but our expertise, lends itself perfectly to the intricacies of it. We have many diverse types of scaffold around different parts of the building to allow for very important works to take place and bespoke pieces built by the expert team, to ensure heavy loaded stone works can be facilitated.
"Vital repair works have now begun and when completed will breathe new life into the landmark and help breathe new life into the museum and safeguard its future."