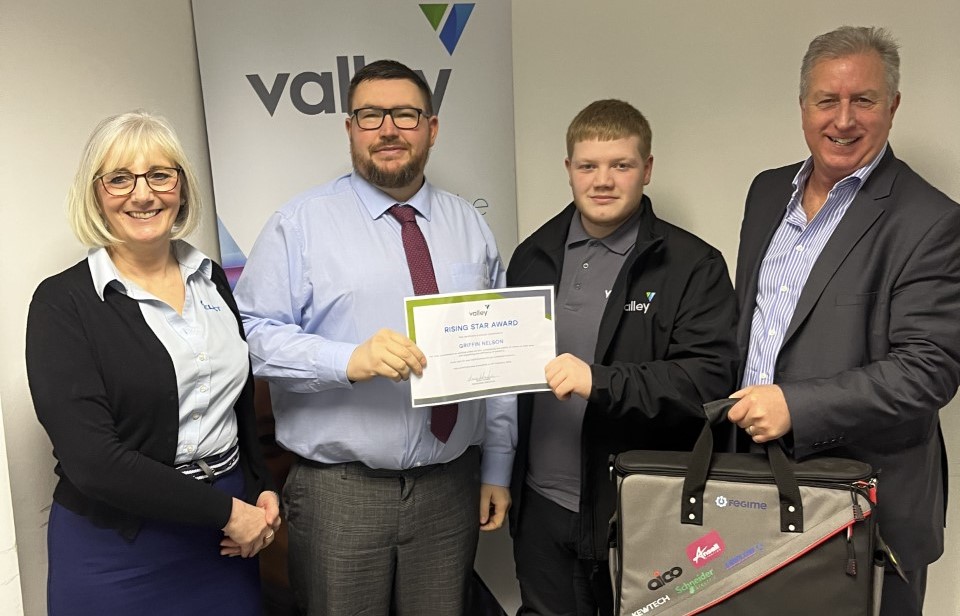 GLASGOW construction business Valley Group has marked Scottish Apprenticeship Week by paying tribute to the firm's first-year apprentice Griffin Nelson, who received the company's Rising Star award for his hard work and effort.
Working as a labourer with Valley Group in preparation for his electrical apprenticeship placement commencing, Griffin is described as having been an asset and consistently worked hard on all works he has been assigned, always asking questions and working diligently.
MD Sean Harkin said, "Griffin is a standout first-year apprentice, with the right work ethic and attention to detail. We are proud to have him onboard, I'm sure he will become a first class electrician."
Griffin was nominated by his manager Steven Logan for the in-house award. Presented by Diane Hales, member representative from SELECT, he was gifted a brand new tool kit from AIB Electrical Wholesale Distributors.
Andy Burt, MD at AIB, added, "It is an honour to be associated with the next generation of up and coming talent within our industry and that is why it was a pleasure to hand out two tool kits to the top apprentices of the Valley Group. As an industry we should be inspired by the way that Valley and SELECT work in conjunction with each other to produce the next generation of excellent tradespeople."